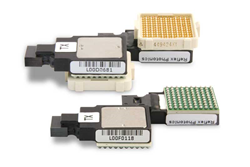 We are excited to demonstrate the flexibility of our LightABLE optical module by offering a simple but effective way to upgrade aircraft interconnect bandwidth with no change to the installed fiber plant.
(PRWEB) October 17, 2017
New or upgraded sensors and computer systems offer great benefits to existing military and commercial aircraft but often necessitate interconnect bandwidth of 10 Gbps or more. Unfortunately, replacing older 100 µm optical fibers in aircraft to support this higher bandwidth can be prohibitively expensive. Reflex Photonics solved this problem by demonstrating its LightABLE optical transceiver delivers error-free operation at 10 Gbps with older 100 µm fiber thus, alleviating the need to replace the installed optical cables.
In addition, the LightABLE transceiver will operate with newer 50 µm fiber (OM3, OM4, or OM5) to deliver interconnect bandwidth well beyond 25 Gbps on distances up to 100 m.
Reflex Photonics develops and produces rugged high-speed optical transceivers for Military, Industrial, and Commercial communications. LightABLE is a chip size embedded optical transceiver capable of transmitting or receiving 150 Gbps over 12 parallel lanes in harsh environments where temperatures extremes of -57ºC to 125ºC is common. A unique feature of the LightABLE is its compatibility with low-cost mass production solder reflow processes. Optical modules in general will not survive solder reflow temperatures of 220ºC and must be either socketed or hand soldered. LightABLE reflow ability gives low assembly cost, strong attachment, low profile, and excellent signal integrity.
Gerald Persaud, Vice President of Business Development commented: "We are excited to demonstrate the flexibility of our LightABLE optical module by offering a simple but effective way to upgrade aircraft interconnect bandwidth with no change to the installed fiber plant. This is another example of LightABLE exceeding performance expectations."