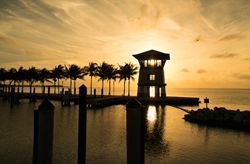 Hurricane Resistant Luxury Homes in the Florida Keys Triumph Over Hurricane Irma
MIAMI (PRWEB) October 14, 2017
This week, Real Estate Scorecard toured Marlin Bay on the island town of Marathon in the Middle Keys, to see how well the West Indies-style homes overlooking the Gulf of Mexico withstood the fierce Category 4 winds of Hurricane Irma. Marlin Bay is a gated community with low maintenance, oceanfront luxury homes and perhaps the finest deepwater marina in the Florida Keys.
The private yacht club's superior construction meets or exceeds the strictest City of Marathon building codes and shines like a beacon. Other than to-be-expected landscape damage, Marlin Bay looked the same way it did when they were there last August. It was as if Hurricane Irma was never there.
The solid concrete roof terraces, hurricane impact resistant windows and doors, reinforced concrete floor systems, steel reinforced exterior walls for each of the detached residences and concrete docks and piling foundations withstood the ultimate test, as well as the decorative balconies, arches and pergola gardens and timber framed Tiki Bar pavilion. The solid infrastructure is now a tested role model for hurricane resistant Florida Keys vacation homes.
Even their freeform, 4,000 square foot resort-style swimming pool did not sustain damage unlike every other swimming pool they've seen in the Middle Keys since Hurricane Irma. The sparkling gem they saw today rivals the finest swimming pools found in the Caribbean or luxury Keys resorts.
Palm Hill is a national developer based out of Stuart, Florida, whose award-winning projects include River Dunes in Oriental, North Carolina, repeatedly honored as a 'Best Boating Community' with a 400 slip 5 star marina on the Inner Banks. Other Palm Hill projects include 2015 Community of the Year The Thoms Estate in Asheville, North Carolina, and the Napa City Resort and Spa in Napa, California.
Palm Hill is a well-funded real estate developer who has zero debt on Marlin Bay. The Middle Keys luxury home community already has over $100 million invested in the project. There are 13 new homes built to date that are 'move-in' ready and soon to be released to the market place. At the project's completion, the gated community will accommodate 84 luxury residences, all within walking distance of delicious restaurants which include Florida Steak & Lobster House, Keys Fisheries and Overseas Pub & Grill.
Marlin Bay's location is special built on a 10 mile island in the middle of an intimate ocean reef. It faces the Gulf of Mexico, the ideal place to gaze at the colorful sunsets. It's located less than 3 miles from one of America's most scenic bridges, the 7 Mile Bridge with an aquatic playground all around it. The turquoise waters, unpopulated islands and natural white sandbars are a boater's dream. Just beyond the 7 Mile Bridge, or 10 minutes by boat, is another treasure. The 142 foot high Sombrero Lighthouse, the Keys' tallest and most impressive lighthouse surrounded by one of the most beautiful, protected snorkeling reefs.
To the north side of Marlin Bay is the Vaca Cut Bridge, another gateway out to the ocean side. Here you'll find another sandbar where boats hug the channel and families play in the white sand and clear waters at low tide. Boat ten minutes further to the north, beyond the island of Key Colony Beach and Coco Plum Beach, is Valhalla sandbar, a local's half mile hangout only accessible by boat. Something only locals know - during the winter months at Vahalla, it's easy to find frisbee-size orange starfish on the white sandy bottom. You can always find live conch, baby sharks and stingrays at Vahalla. And this just scratches the surface of the number of tropical reefs and places to explore within a 5 mile radius of Marlin Bay.
Fishing in the Florida Keys is unquestionably an angler's dream. But what one might not know is how special Marlin Bay's location is to two distinctly different venues. Fish the 'oceanside' for yellow tail snapper and yummy porgies along one of the 7 Mile Bridge columns or anchor at one of the nearby deeper reefs such as Lucille's or Sam's Ledge. Troll along the inner reef shelf for game fish or head out to the deep blue for dolphin, wahoo and tuna. On the 'bayside', spend the day chasing a 'Grand Slam', catching permit, bonefish and tarpon all in the same day.
Boating is one of the dominating reasons folks own homes to the Florida Keys and finding a waterfront home that can withstand a Category 4 hurricane with a protected marina is rare. Marlin Bay offers this in a perfect way. Their marina features 99 deepwater concrete docks, wet slips up to 70 feet and boat lifts on select slips. The marina is divided into 3 areas: inner basin, outer basin and boot canal. All areas are deepwater drafts. There is full power, water and wifi to beach of the individual slips through pedestals on the seawall. The marina is equipped with cameras. Real Estate Scorecard anticipates the deepwater Florida Keys marina will soon be home to luxury yachts, sport fishing boats, and sailboats.
When the marina officially opens later this year, they were informed the dock master services will include assistance releasing and re-docking, pump out, and traditional dock management. A Captain's Store is coming soon with provisions, ice and bait. Pursuit's Landing is a floating dock planned for kayaks and paddle boards. All of these are equity club privileges that come with owning a luxury home at Marlin Bay.
Amenities reach beyond the water. Its 10,000 square foot two story clubhouse exudes the elegance of a private yacht club. Here property owners will enjoy a newly appointed elegant entertainment area, full workout facility and aerobics room, steam and sauna rooms, spa treatment room and business center.
Real Estate Scorecard highly recommends Marlin Bay to folks searching for low maintenance, oceanfront luxury Florida Keys vacation homes, homes one can count on to weather the storm. An oceanfront community on the Gulf of Mexico unlike anywhere else. Spacious oceanfront homes are priced from $1.75 million.
For more information and to schedule a tour, contact Marlin Bay directly at (305) 501-4784.
About Real Estate Scorecard:
Real Estate Scorecard writes unbiased real estate reviews providing in-depth information about popular gated communities in Florida, Georgia, the Carolinas and Tennessee and Central America, all in an effort to help people discover where to retire in the South.
Website: http://realestatescorecard.com