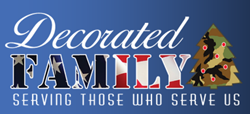 Decorated Family allows us to give back to the community and recognize those who serve in our military branches
KENNEWICK, Wash. (PRWEB) October 16, 2017
Decorated Family allows friends and families to nominate a person serving in the military. The nominee's family will then be eligible to be chosen for professional light installation for the holidays. "Decorated Family allows us to give back to the community and recognize those who serve in our military branches," says Becca Presley, Senske's Director of Marketing.
With Veteran's Day just a few weeks away, honoring servicemen and women is top of mind for Senske. The company is currently accepting nominations through its Decorated Family page on senske.com. Each nomination should include a name, phone number, address, and email as well as a story explaining the nomination. All nominations are due on November 15th and winners will be chosen on the 17th at 12:00 pm PST.
The Decorated Family program, with help from Christmas Décor, has been in existence for over a decade. It began when a former Senske branch manager attended a holiday dinner party and thought of all the military members serving overseas who wouldn't be able to celebrate with their loved ones.
Senske is currently accepting nominations through their Decorated Family page.
About Senske Lawn & Tree Care:
Senske Lawn & Tree Care is a leading lawn, tree and pest control service provider that is locally owned and operated, with its corporate office based in Kennewick, Washington. It has been a trusted source of lawn, tree and pest control services since 1947 across Washington, Idaho, and Utah , as well as pest control in Las Vegas, Nevada. To see what Senske can do for you, visit http://www.senske.com.