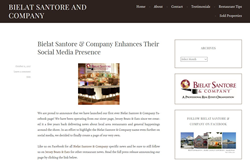 Allenhurst, New Jersey (PRWEB) October 13, 2017
Bielat Santore & Company is encouraging clients, customers and all interested parties to check out their new blog page, encompassing company testimonials, restaurant tips, recent properties sold and other company news. This news follows the real estate firm's recent announcement of the launch of their Facebook business page, enhancing their social media presence.
Bielat Santore & Company also powered the former Jersey Beats & Eats blog and YouTube channel for several years, which was the original home of the ongoing educational series, "Restaurant Tip of the Month." The series can now be viewed on the business's blog and YouTube channel.
To view the company's blog, visit https://bielatsantoreandcompany.wordpress.com/. For their YouTube channel, go to https://www.youtube.com/channel/UCnoRr8uad2pAvkKW1o-rs-A/featured.
About Bielat Santore & Company
Bielat Santore & Company is an established commercial real estate firm. The company's expertise lies chiefly within the restaurant and hospitality industry, specializing in the sale of restaurants and other food and beverage real estate businesses. Since 1978, the principals of Bielat Santore & Company, Barry Bielat and Richard Santore, have sold more restaurants and similar type properties in New Jersey than any other real estate company. Furthermore, the firm has secured in excess of $500,000,000 in financing to facilitate these transactions. Visit the company's website, http://www.123bsc.com for the latest in new listings, property searches, available land, market data, financing trends, RSS feeds, press releases and more.