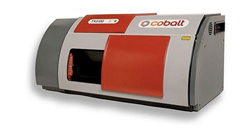 The TRS100 enhances our advanced solid-state characterization technology in vibrational spectroscopy and allows SSCI spectroscopists to rapidly acquire high-quality spectra for our customers engaged in problem-solving and product development activities
WEST LAFAYETTE, Ind. (PRWEB) October 18, 2017
SSCI, part of AMRI's Global Analytical Services, has further enhanced its solid state characterization and method development capabilities, through the addition of the Cobalt Light Systems TRS100 Transmission Raman Spectrometer.
"The TRS100 enhances our advanced solid-state characterization technology in vibrational spectroscopy and allows SSCI spectroscopists to rapidly acquire high-quality spectra for our customers engaged in problem-solving and product development activities," said Pamela Smith, Ph.D., vice president of global analytical services at AMRI.
Transmission Raman spectroscopy is a relatively new commercial application of Raman spectroscopy. A growing number of studies(1,2,3,4) show various uses of transmission Raman spectra for quantitative and qualitative analysis of active pharmaceutical ingredients (API) in various drug product formulations and with a broad span of API concentrations. The TRS100 at SSCI features the ability to acquire spectra with variable laser spot size and variable optics for collecting transmitted Raman signal. The TRS100 can accommodate both powder and tablet samples and enables spectra to be acquired from a large number of samples in a completely automated manner with next to no sample preparation. The system has demonstrated that very good quality spectra can be obtained from short acquisition times. This allows a thorough interrogation of the sample and minimizes risks due to inhomogeneity.
"The system is uniquely suited for applications requiring acquisition of a large number of spectra for our quantitative or qualitative analysis service offering and will further enhance the valuable information that SSCI delivers for design of experiments (DOE) and quality by design (QbD) studies," said Patrick Tishmack, Ph.D., director of analytical services at SSCI. "Having no sample preparation coupled with stand-alone chemometrics software provides a direct path for immediate multivariate analysis."
Please visit our website for information on how transmission Raman spectroscopy may be suited for your application.
References
1. J. A. Griffen, A. W. Owen, J. Burley, V. Taresco, P. Matousek J. Pharm. Biomed. Anal. 128 (2016) 35.
2. A. Sparen, M. Hartman, M. Fransson, J. Johansson, O. Svensson Appl. Spectrosc. 69 (2015) 580.
3. J. A. Griffen, A. W. Owen, P. Matousek Analyst 140 (2015) 107.
4. https://www.cobaltlight.com/news/US-FDA-Purchases-Transmission-Raman-for-Quantitative-Analysis-of-Tablets-and-Capsules
About SSCI
AMRI SSCI, LLC (SSCI), a division of AMRI, provides industry leading contract solid-state and analytical testing services and exists to help companies in the pharmaceutical, food, agrochemical, and other chemical industries develop better products and get them to market more quickly. Over the past quarter century, SSCI has provided comprehensive cGMP research and analytical services in the characterization and chemistry of solid materials, with particular expertise in small and large molecules being investigated for pharmaceutical use. SSCI's offerings include early candidate support services (in vitro analysis, stability, solubility, dissolution, excipient compatibility), solid form screening and polymorph, salt and co-crystal screening, form selection, particle engineering (process development, particle size method development), property improvement, crystallization of difficult materials, process control, biochemical analysis, full analytical chemistry support including method development and validation, intellectual property consulting and litigation support, and related research activities. For more information about analytical and solid-state services, or our transmission Raman spectroscopy expertise, please contact 1-800-375-2179 or visit our website http://www.ssci-inc.com.
About AMRI
AMRI, a global contract research, development and manufacturing organization, partners with the pharmaceutical and biotechnology industries to improve patient outcomes and quality of life. With locations in North America, Europe and Asia, AMRI's team combines scientific expertise and market-leading technology to provide a complete suite of solutions in Discovery, Development, Analytical and Solid State Services, API Manufacturing and Drug Product. For more information about AMRI, visit http://www.amriglobal.com.