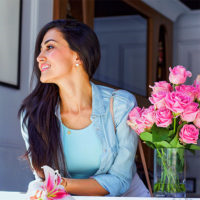 Boulevard Books publishes a forthcoming collection of poems and stunning images by Sepi Roozdar.
Long Island, New York (PRWEB) October 13, 2017
Boulevard Books is proud to publish a new collection of soulful poetry and stunning visual images by Sepi Roozdar, who describes her book as "here we are, I to I. Will you keep the secret that everyone knows? We all call ourselves "I" and, as magic I, we recognize the difference between "me" as the mind and "myself" as the heart. It is this vision that ultimately chooses love as the one way to be. through a colorful space of imagination, magic I is the story of discovering true you."
Sepi is presently and poetically living in New York City with love of artistic expression from an early age. She is sharing her poetry and illustrations with the world. Sepi's writing is rooted in the harmony of oneness and seeking of universal truth. Her career as a high school science teacher gifts her with the unique opportunity of presenting the chemistry and physics of life in a philosophically relatable way. With an educational background in psychology and medical biology, along with a masters of arts in teaching, she infuses her work with deep insight as she carefully shines light to unify the physical, psychological and spiritual energies of her readers.
Join her on the path of love, self-discovery and unity consciousness on social media @sepinfinity
http://www.infinityinfinity.org
Boulevard Books is an educational publishing company founded in 2010 by educator and author Avi Gvili.