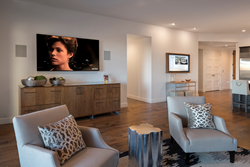 The Enclave at Borgata spared no expense in creating a luxurious retreat for its resident.
PHOENIX (PRWEB) October 15, 2017
When residents are purchasing a luxury million-dollar condominium, they expect the best. That is what they've found at Enclave at Borgata, a high-end community located in Scottsdale. Built by Wespac Communities and managed by Antera Development, the Enclave at Borgata needed one more thing to attract residents: state-of-the-art technology. That's where Immedia Integrated Technologies entered the picture, and they have helped elevate the game for the community's new residents.
Boasting 86 units, each between $800,000 and $3.9 million, the Enclave at Borgata spared no expense in creating a luxurious retreat for its residents. Immedia was contracted to complete the pre-wiring for audio and control panels as the community was being built, and they remain involved to provide upgraded packages as each unit is sold.
"It's understandable that buyers want to have that smart house feel," shared Matt Blair, president of Immedia. "To meet their needs, we are able to upgrade their technology package with a varied menu of offerings, including HVAC and lighting control, as well as additional wiring for all of their A/V needs. In addition, we can customize solutions for each resident, integrating products they already have or suggesting additions. Many have chosen a comprehensive touch panel that controls everything from lighting and window coverings to security and HVAC."
In addition to their work on the residential units, Immedia also set up the design center and sales center for the property, as well as provided A/V throughout the common areas.
Immedia has contracts with both Wespac and Antera Development/Enclave at Borgata, LLC for all stages of development and sales. Plus, buyers can choose to work with the A/V company directly, following completion of their sales contract.
While Immedia and Wespac have collaborated on a number of projects, this is the first time they've partnered with Antera Development. "We look forward to completing this community build-out over the next year, and we are eager to assist Antera Development on other projects in the future," Blair intimated.
About Immedia Integrated Technologies:
Founded in 2004, Immedia Integrated Technologies is a full-service technology company with a focus on integrated audiovisual solutions including design, installation, automation, and digital signage. For more information, visit http://immedia-tech.com.
***