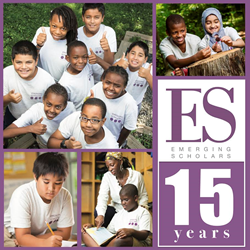 "100% of our scholars consistently perform in the top 10% of their class," says the Executive Director of ES, Ruth Hazel.
ARLINGTON, Va. (PRWEB) October 17, 2017
Emerging Scholars (ES) will host its 15th Anniversary Gala and After Party on Friday, November 3rd, from 6:30pm until 11:30pm, in the grand ballroom at MGM National Harbor located in Oxon Hill, Maryland. To date, ES students have been awarded over $20 million dollars in both need and merit based scholarships to attend the top independent schools and universities in the United States. Emerging Scholars is a non-profit organization that offers over 10,000 hours of tuition-free academic instruction and life-long mentorships beginning in the 5th grade to bright, motivated students who would not otherwise have the resources to achieve their full academic potential.
"We are thrilled to commemorate fifteen years of ES with our biggest and best gala yet," says the Executive Director of ES, Ruth Hazel. "In addition to offering educational opportunities for our scholars, ES provides meaning, hope, inspiration, and a sense of belonging that changes their lives forever. We are proud to say that 100% of our scholars consistently perform in the top 10% of their class; and students who statistically would not have attended college have been accepted to such prestigious institutions as Columbia, Georgetown, Harvard, Johns Hopkins, and Northwestern - just to name a few," she added.
The non-profit organization is celebrating the first ES college graduates this year, including a young lady from the very first cohort of scholars who started the program in the 5th grade and has recently earned her degree from the United States Military Academy. Summer, who studied German and Systems Engineering at USMA West Point, attributes much of her success to ES. She explains that ES propelled her to a level of achievement that she did not previously believe was possible. "Emerging Scholars advances students to where they need to be to achieve better - not just to a better school, but [ES teaches] how to tackle real life challenges to create a better life," said Summer.
This event will celebrate the remarkable achievements of ES scholars and the efforts of ES's dedicated supporters over the past fifteen years, while raising funds to sustain programming for the students ES continues to serve. The evening of fun and fundraising includes music by DC's famed DJ Neekola, an awards presentation, and opportunities to win exciting experiences and luxury items; all while guests enjoy signature cocktails and wine paired with inspired cuisine, a craft bourbon bar, and hand-rolled cigars. Dancing with DJ Neekola, drinks and late night fare will continue until 11:30pm at the After Party.
The annual ES gala provides essential program funding through ticket sales, donations, sponsorships and auction proceeds. "The generous support of our gala sponsors and attendees allows us to change our scholars' lives," says Stefanie Erkiletian, Gala Committee Chair. "We are making a real difference here. The skills they learn from ES, beginning in the fifth grade, prepare these students for a lifetime of success as they continue to college and beyond," she continued.
The ES 15th Anniversary Gala will begin at 6:30 pm in the grand ballroom at MGM National Harbor, followed by the After Party from 9:30 until 11:30pm. For more information visit https://www.greenvelope.com/event/ES2017Gala. To purchase tickets or to be a sponsor of the event, please go to https://emerging-scholars.networkforgood.com or call (703) 567-6600.
To learn more about Emerging Scholars, visit http://www.emergingscholarsprogram.org/
About Emerging Scholars
For families with bright children facing economic challenges, Emerging Scholars (ES) provides an intensive program of academic and social enrichment, life and leadership skill development and sustained family support. ES is dedicated to providing opportunities that change the educational trajectory of students with high potential. Our team of professional educators and community supporters provides scholars with the skills they need for success in their academic careers and beyond.