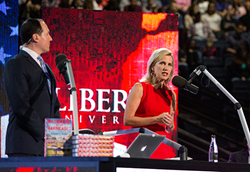 "Make every day matter, every single day that you have, because there will come a time where that person that you love is no longer there or that country that you love is in real trouble and you don't want to ever look back on a moment or a day and say, 'I could have done more.'" —Laura Ingraham
Lynchburg, Va. (PRWEB) October 13, 2017
The crowd at Liberty University Convocation on Friday served as a loud, enthusiastic studio audience while celebrity political commentator Laura Ingraham aired her nationally syndicated talk radio show live from the Vines Center, with millions tuning in from coast to coast. Convocation marked the kickoff for Liberty's annual Homecoming and several alumni joined students in the audience.
Liberty President Jerry Falwell welcomed Ingraham to Liberty for the first time since 1982. Back then, she was a freshman at Dartmouth College and visited to interview the late Dr. Jerry Falwell, the university's founder. The younger Falwell said he found an ally in Ingraham, a rare conservative studying at an Ivy League institution, and the two have remained friends as their careers have developed.
Ingraham served with President Ronald Reagan's administration before going on to law school and, eventually, hosting one of the nation's most listened to radio programs. She is also a regular guest on FOX News and an author, most recently of "Billionaire at the Barricades," which she offered to students at a discount. Ingraham stayed after Convocation to interact with students and sign copies of the book.
"She is on the front lines every day. What she has done for this country … has just been incredible," Falwell said.
During the live broadcast of her show, which was co-hosted by best-selling author Raymond Arroyo, Ingraham discussed the rise of President Donald Trump (whom both she and Falwell supported), and, specifically, how he has energized working class Americans, who have felt overlooked and taken advantage of for years.
Ingraham shared her own background of growing up in a hard-working, middle class Connecticut family to relate to those feelings of being alienated.
"My parents raised me to understand that the backbone of the country is the working person," she said. "Those ordinary Americans who do not expect a special break. They just expect that they will be treated fairly and represented by their government."
Challenging the students to make the most of each moment, Ingraham shared the parting words President Reagan challenged her with as she moved on from working in the White House: "Make it matter."
"Regardless of what you think about politics or whether you are even interested in politics, every day that God gives you on this planet of ours, and this incredible country of ours, remember those words that President Reagan told me all those years ago, 'Make every day matter,'" Ingraham said. "You'll have ups and downs and difficulties and challenges and great achievements; you are going to have heartache. … You already have your faith; you are holding on to that. But make every day something that you look back on and say, 'I did something, I did something.' Maybe you changed someone else's life. … Make every day matter, every single day that you have, because there will come a time where that person that you love is no longer there or that country that you love is in real trouble and you don't want to ever look back on a moment or a day and say, 'I could have done more.'"
During her show, Ingraham took time to praise Liberty's growth, saying, "You've come a long way, baby," and suggesting that she would like to come teach a course on campus. She even reminded her listeners tuning in from California to New York of Liberty's historic win over Baylor University — Flames Football's first victory over a Power 5 school — as she announced, "Poor Baylor," from the stage.
Ingraham answered questions from Liberty students live on the air. Students asked the host to share her thoughts on complex political issues ranging from immigration and caring for refugees to how Republicans can diversify their voter demographics.
Throughout her show, Ingraham stressed the importance of being civically involved, and of respecting the office of the president while demanding it be accountable to the American people and serve their interests.
"This is your country," Ingraham said. "This is a country that has seen great triumph and great heartache. It is up to you. Donald Trump is going to turn this country over, I hope in eight years, or in four years, we don't know — he is going to turn it over to the next generation. And we are going to hold him accountable; we are going to make sure that his policies are to the benefit of the working class that I came from, and we are going to ensure that our faith is not kicked to the curb. … Donald Trump won because he understood the heart and soul of this country. He wants the best for you and we have to support him and we have to hold him accountable at the same time."
ABOUT LIBERTY UNIVERSITY
Liberty University, founded in 1971, is the largest private, nonprofit university in the nation, the largest university in Virginia, and the largest Christian university in the world. Located near the Blue Ridge Mountains on more than 7,000 acres in Lynchburg, Va., Liberty offers more than 550 unique programs of study from the associate to the doctoral level. More than 250 programs are offered online. Liberty's mission is to train Champions for Christ with the values, knowledge, and skills essential for impacting tomorrow's world.