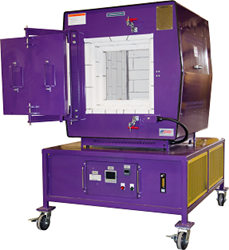 "For research and development applications temperature uniformity and repeatability are key. The 1500°C box furnace provides both of these important features so it was a perfect choice for our customer."
RIVERSIDE, Mich. (PRWEB) October 16, 2017
Lindberg/MPH announced the shipment of a 1500°C heavy duty box furnace to a University. The 1500°C box furnace offers excellent temperature uniformity, rapid response rate, dense load capability, and process repeatability which makes it ideal for testing, research and development, and laboratory applications. The 1500°C box furnace is suited for multiple applications such as annealing, ashing, carbon firing, ceramic firing, hardening, sintering, solution treating, and stress relieving.
The maximum temperature rating of this box furnace is 1500°C and the work chamber dimensions are 16" W x 24" D x 16" H. The box furnace has insulating vestibules and is equipped with a directly hinged, insulated plug door. An internal vent located in the top center of the vestibule aids in dissipating the initial heat surge that occurs when the door is opened.
This box furnace is designed with a few custom features such as a ½" inlet pipe in the rear of the chamber for the use of an inert cover gas, a custom built stand to maintain a 42" height from the floor with locking casters to allow the furnace to be moved to different locations within the facility. The box furnace utilizes a Eurotherm Nanodac programmable controller that offers 2 PID control loops and auto-tune for fast, efficient start up. Standard ethernet communications and a paperless chart recorder were also added.
"For research and development applications temperature uniformity and repeatability are key. The 1500°C box furnace provides both of these important features so it was a perfect choice for our customer."- Kelley Shreve, Applications Engineer
Unique features of this Lindberg/MPH 1500°C heavy duty box furnace include:

High temperature graded insulation
Double shell construction
Advanced heating element designs
Insulated plug door
Attractive outer shell design
Heavy-duty construction
SSR solid-state relay fired heaters
Eurotherm Nanodac programmable controller
Eurotherm 3216i excess temperature controller connected to backup power disconnect
One dual thermocouple assembly
Power circuit breaker
Adjustable N2 Flowmeter with open/closed solenoid driven by controller
About Lindberg/MPH
Lindberg/MPH is a leading manufacturer of standard and custom industrial heat treat furnaces, including pit, box, IQ, and belt type for the ferrous and non-ferrous markets. Lindberg/MPH customers cover a wide range of industries including aerospace/military, automotive, commercial heat treating, energy/oil, electronics and the forging markets. Founded in 1917, the company has more than 75,000 industrial furnace installations worldwide and their equipment is backed by a full range of customer support services and the most extensive replacement parts inventory in the industry. Lindberg/MPH is a proven leader in the thermal processing industry, with a long track record of proven policies and management practices.
Lindberg/MPH is owned by Thermal Product Solutions ("TPS"), a leading American manufacturer of custom industrial ovens used for heat treating, finishing, drying, curing, manufacturing automation and process control. TPS is a global leader in thermal processing products and test solutions with brands including Baker Furnace, BlueM, Gruenberg, Tenney, Lindberg, Lunaire, MPH, and Wisconsin Oven. For more information on equipment solutions from TPS visit the website at http://www.thermalproductsolutions.com. #226834