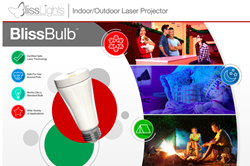 One Bulb. Thousands of sparkles.
SAN MARCOS, Calif. (PRWEB) October 17, 2017
Starting on November 1st, BlissLights' new BlissBulb will be available at 500 Sam's Club stores across the nation.
BlissLights is a pioneer in the laser and holographic lighting market, offering professional grade solutions that are easy enough for anyone to use.
Their new BlissBulb can be twisted into any standard light socket or plugged right into the wall using an adapter to cast the perfect glow both indoors and out.
"The new bulb features our same pioneering technology, but condensed into an even smaller, easier to use package," explained BlissLights' Co-Founder and Vice President of Sales and Marketing, Alan Lee. "And now that we've partnered with Sam's Club, even more people can experience laser magic."
BlissBulb Highlights:

Groundbreaking laser technology projects thousands of tiny pinpoints of light
Convenient bulb format is easy to install
No messy cords--just twist into any standard bulb socket
Lasts up to 8000 hours with energy costs less than $1 per year
Sleek design blends into any home's décor
Can be used year round
Technology is safe to use around people and pets
Exhibits sharper, brighter, and better coverage than competitors
Can be used in lamps, down lighting, or even recessed lights
Available in Blue, Red, Green, or Cyan
The BlissBulb can instantly transform any room into a romantic escape, add that perfect dash of whimsy to a holiday design, or act as a beautiful backdrop for events. Simply twist it in and flip the switch.
The new BlissBulb is available in a single pack ($24.99), two pack ($44.99), or three pack ($59.99) online at http://www.blisslights.com and at Sam's Club stores nationwide with special member value pricing.
About: Pioneering Laser Magic! BlissLights Inc. is an artistic lighting company founded in 2006 after inventing, engineering, and patenting a unique multi phase diffractive holographic optics and light projection technology. The company focuses on manufacturing unique lighting experiences that are affordable for every home and garden. Driving INNOVATION THROUGH IMAGINATION, BlissLights is setting a new standard in the light industry by bringing a little more "bliss" into each home.