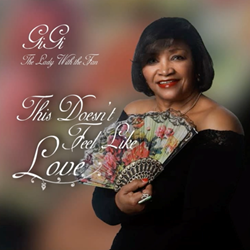 In my performances, I feel that I owe the audience the very essence of why I stand before them giving a fresh, qualitative, empowered, synergy that leaves them wanting more...
(PRWEB) October 16, 2017
Formally known as "Gigi" ~ "The lady with the fan" for she always has a beautiful handmade fan adorning her performances. Her female fans are known as her "fanistas". Her cool, sensual singing style is geared toward the 'senior set' as her performances are reminiscent of days gone by when jazz standards were held in high regard in the music community. Gigi's style and elegance upon the stage exudes confidence and reverence for a style of music that tells a story, from upbeat tempos to sensuous ballads. She developed her unique vocal and writing style through the influences of: Nancy Wilson, Ella Fitzgerald, Peggy Lee, Sarah Vaughn and Phyllis Hyman.
Gigi began singing again after a hiatus of running a large corporation in New Orleans and decided to get back on stage and allow the songs in her heart to be written and heard. Her performances are geared toward the contemporary senior community that loves to reminisce through legendary jazz music. In 2012, she took the jazz community in Lake Charles, Louisiana by storm.
Her writing style captures the imagination of the listener with a rich, full-bodied sound that soothes, delights and seduces her audience. A fan recently commented of Gigi: "Smooth as fine wine, she graces the stage with style and glamour along with adding a little sass to her performance."
"I remember the day when Gigi reached out to me for promotion, she shared with me that she had accomplished much in her life and felt that the music that ran through her veins was going to have a platform. She noted that her age was not going to stop her from enjoying her God-given talents. She wanted to relate not only to a new audience but to give the "sophisticated audience" a place to listen to the jazz standards they know and love," says Jaijai Jackson of the Jazz Network Worldwide.
Gigi's focus is to continue to compose original songs and to breathe life into the love of music she has in her heart. "This Doesn't Feel Like Love" is just the beginning of the musical offerings being originated by this sassy chanteuse. The mature audience setting is where she thrives, with a purpose that no matter how old you are, you can enjoy America's musical art form and have fun remembering just how nostalgic life can be through the musical presentations by "The Lady With The Fan." Gigi seeks to perform for jazz societies, upscale fundraisers, senior communities and philanthropic events that support health, wellness and spiritual growth and is currently writing for her upcoming CD due early 2018. "This Doesn't Feel Like Love" can be purchased at CDBaby (https://store.cdbaby.com/cd/gigitheladywiththefan).
Be sure to catch "Gigi's" feature on The Jazz Network Worldwide this week at http://thejazznetworkworldwide.com. To learn visit Gigi's new website at http://gigisjazz.com.
Follow "Gigi":
Facebook: https://www.facebook.com/gsmitherman1
Twitter: https://twitter.com/Jag0101