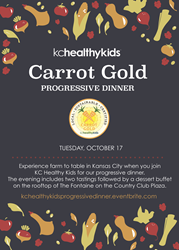 "These participating restaurants are doing more than feeding us, they are changing what eating in Kansas City looks like," said Alicia Ellingsworth, farm to institution manager at KC Healthy Kids."
Kansas City, MO (PRWEB) October 16, 2017
KC Healthy Kids will host a farm to table progressive dinner on Tuesday, Oct. 17 in association with seven of its Carrot Gold partners. The adventure features three separate routes for course tastings.
After the course tastings everyone will meet on the rooftop of The Fontaine for drinks and dessert.The routes will be picked by KC Healthy Kids. The guests will know their routes on October 15.
Here are the dinner routes and times for the participating Carrot Gold restaurants:
Johnson County: >> Renee Kelly's Harvest>> Jax Fish House & Oyster Bar >> The Fontaine
The Westside: Blue Bird Bistro >> The Rieger >> The Fontaine
River Market: The Farmhouse >> Howard's KC >> The Fontaine
Times:
6:00 - 8:00 pm First & Second Stops
7:00 - 10:00 pm Rooftop of the Fontaine on the Country Club Plaza
Just a mile West of IKEA, Renee Kelly's Harvest is a true destination for farm to table and has been a 24 Carrot Gold partner of KC Healthy Kids' program since 2016. The restaurant is owned and operated by celebrity chef and local TV personality Renee Kelly. Renee has been supporting local farmers for a long time, often bringing her staff with her. Harvest grounds have a composting site along with several recycling bins that demonstrate commitment to sustainability.
Jax Fish House and Oyster Bar is a recent addition to KC Healthy Kids' Carrot Gold program. The first chain restaurant to be a Carrot Gold partner, Jax is a seafood company that values sustainable harvesting and local sourcing. Jax uses only seafood from the "green list," which means the seafood is "caught or farmed in ways that cause little harm to habitats or other wildlife." Chef Jeff Deitzler is dedicated to local sourcing and sustainability.
"Chef Deitzler is so committed to sustainability that he is looking for ways to compost his oyster shells," said Alicia Ellingsworth, farm to institution manager at KC Healthy Kids.
Blue Bird Bistro, one of Kansas City's original farm to table restaurants, is a landmark in the Westside neighborhood. The restaurant offers Mid-American cuisine featuring organic, sustainably grown local produce, eggs, cheese and meat. Soups are made fresh daily, changing as seasonal produce varies and are made with broths from house-made stock. The owner, Jane Zieha, has grown the restaurant based on her childhood passion for farm produce and home cooking. She has helped local farms grow and has maintained long-lasting relationships with local farmer suppliers.
Under the direction of executive chef and owner, Howard Hannah, The Rieger's culinary offerings include local and regional foods prepared with local inspiration. They purchase their produce such as mushrooms and microgreens from local growers, many purchased from markets within blocks of their restaurant. Meats, including rabbit, are also sourced locally. The Rieger plans to move toward native and foraged foods to introduce patrons to foods that have been here since before the area was developed.
Chef Michael Foust of The Farmhouse offers a seasonal menu featuring fresh ingredients from 15 local and sustainable farmers. He works with local producers to provide dairy, eggs and meat, which is processed at the restaurant. Michael Foust always welcomes farmers bringing goods anytime they arrive.
"We cannot predict when the rain might stop and allow harvest. Those folks go through a lot to grow the best food. I am not going to add to their load by setting business hours for them," said Foust. "My business revolves around them. I need those guys," he added.
At the peak of the season, owner Craig Howard of Howard's Grocery Cafe and Catering, sources from as many as 15 farmers but you'll find local items on the menu practically all year. To cut down on food waste, Howard makes his own stock and puts casseroles to the menu to make use of surplus ingredients. He buys humanely raised meat that does not contain nitrates, sodium benzoate and artificial colors or flavors.
Chef Scott Blackerby of The Fontaine is new to the area, but he is focused on local producers. He is committed to sustainability, including 100 percent composting and 100 percent recycling. He is on a mission for 2018 and beyond; he intends to preserve food so he can use it year-round, recycle cardboard and grease and avoid styrofoam takeout containers.
"These participating restaurants are doing more than feeding us, they are changing what eating in Kansas City looks like," said Alicia Ellingsworth, farm to institution manager at KC Healthy Kids. "I so much appreciate them and their enthusiasm for this event! Farm to table is all about trusting in the process and experimenting with what shows up," she added.
Guests can choose from following ticket options available on Eventbrite:
Early Bird Progressive Dinner Tickets- $55 plus $3.74 (fee)
Progressive Dinner Tickets- $65 plus $4.24 (fee)
Dessert Event- $20 plus $1.99 (fee)
About Carrot Gold
Carrot Gold grows the demand for local food and keeps farmers farming. It's a network of restaurants and institutions that are setting the standard for local food purchasing, sustainable kitchen practices and healthy menu options. The growing list of partners includes restaurants, schools, corporate cafeterias, government facilities, grocery stores, value-added producers and food trucks.
About KC Healthy Kids
KC Healthy Kids rallies the people in our communities to improve access to affordable fresh food and safe places to walk and play. When our neighborhoods support healthy habits, we are less likely to suffer from obesity, which is linked to Type 2 diabetes, heart disease, and poor mental health. To make a lasting impact, we shape policies that improve our food system and physical surroundings and ultimately, the places where we live, work, learn and play.
For more information, please visit http://www.kchealthykids.org