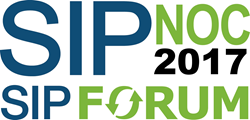 "Network operational and technical professionals play an important role in combating robocalling, an issue that cannot be solved in a day, by decree, or alone," said Dr. Burger. "I'm excited to represent the FCC and talk about the current technical challenges and opportunities available."
NORTH ANDOVER, Mass. (PRWEB) October 17, 2017
The SIP Forum announced today that newly appointed Federal Communications Commission (FCC) Chief Technology Officer (CTO) Dr. Eric Burger will be the keynote speaker for the seventh annual SIP Network Operators Conference (SIPNOC 2017), being held at the Hilton Washington Dulles Hotel in Herndon, VA, November 28-30, 2017.
SIPNOC 2017 will host an international audience focused on the operational and technical aspects of Session Initiation Protocol (SIP) in service provider networks and issues critical to the reliable and successful deployment and operation of SIP-based services in carrier networks.
The SIPNOC 2017 agenda will feature special presentations, tutorials, panel discussions and workshops covering key topics by network operators related to SIP-based services and infrastructure, including Securing the VoIP Infrastructure; SD-WAN; Voice Network Syndication; SIPconnect 2.0, 3.0, and Certification Testing; Troubleshooting and QoS Strategies; IoT Applications and the Use of VoLTE; Debugging SIP Applications; Call Routing and Peering; Important Regulatory and Policy Developments; Troubleshooting and Monitoring; Intensive Wireshark Training, and more.
Special emphasis will be given to reviewing the progress of the joint SIP Forum ATIS Task Force on the STIR/SHAKEN framework that addresses the international problem of robocalls and Caller ID spoofing. This framework is under active discussion at the Federal Communications Commission and other national regulatory bodies. Information on the NNI Task Force can be found at https://www.sipforum.org/activities/nni-task-force-introduction/
SIPNOC 2017 will also feature sessions that reviews the implications of National Number Portability on call routing.
Please refer to the SIPNOC 2017 Preliminary Agenda for more detailed information about the conference content. Full event information can be found at the event website located at https://www.sipforum.org/news-events/sipnoc-2017-overview/.
"Network operational and technical professionals play an important role in combating robocalling, an issue that cannot be solved in a day, by decree, or alone," said Dr. Burger. "I'm excited to represent the FCC and talk about the current technical challenges and opportunities available as part of this forum and learn from the international community as we work together to implement approaches to make this problem tractable."
"The SIP Forum is very proud to have our Former SIP Forum Chairman keynote this year's SIPNOC event, especially in his new capacity as FCC CTO," said Richard Shockey, Chairman of the Board of the SIP Forum. "Eric is universally acclaimed as a leading IP Communication expert and major supporter of the SIP standard and we look forward to hearing his insights on these developments."
The FCC's Chief Technology Officer serves as an advisor to the Chairman and as the senior technology expert in the agency. The position is housed within the FCC's Office of Strategic Planning and Policy Analysis. Dr. Burger replaces Dr. Henning Schulzrinne, who returned to Columbia University.
Prior to joining the Commission, Dr. Burger served as director of the Security and Software Engineering Research Center in Washington, DC. The center helps propose solutions to network problems like robocalling, rural call completion, accessibility of communications for Americans with hearing and speech impairments, reducing the cost of deploying and operating communications networks, and ensuring communication network security and stability. He holds patents in telecommunications and is an expert in standards for telecommunications, network, and Internet technologies.
Dr. Burger has also held senior engineering and technology positions in various telecommunications companies and served as a technology consultant to others. He is also the Former Chairman of the SIP Forum, and he has taught computer science at Georgetown University, George Mason University, and The George Washington University. He holds a Ph.D. in computer science from Illinois Institute of Technology, an MBA from Katholieke Universiteit Leuven in Belgium, and bachelor's degree from Massachusetts Institute of Technology.
"We are simply thrilled to have Dr. Burger keynote this year's SIPNOC event to update our community on the latest trends in the industry and challenges we all face as the pace of IP communications technology adoption continues to accelerate. As one of the leading experts in the IP communications industry, we'd be hard-pressed to find someone more qualified to open our conference proceedings," said Marc Robins, SIP Forum President and Managing Director, and SIPNOC Program Chair.
Attendees at SIPNOC 2017 will include engineers and network architects from telecommunications providers, major backbone operators, interconnect and wholesale solution providers, ISPs, cable operators, wireless network operators as well as large enterprises deploying major SIP initiatives.
Current corporate sponsors of SIPNOC 2017 include Diamond Sponsors ECG and Edgewater Networks; and Gold Sponsor TransNexus. For more information about SIPNOC 2017 sponsors, please visit https://www.sipforum.org/news-events/sipnoc-2017-overview/#sponsors.
Register Today– $150 Discount Available on All-Access Pass for Limited Time.
For a limited time regular "All-Access" (including Wireshark Training and all General Sessions) attendees can take advantage of a special $150 discount off the regular registration rate by entering code "sipnocdisc150" on the initial registration page. Other registration options include Wireshark Training Only, Conference Sessions Only passes. Visit http://www.sipnoc.org for more information. Registration is at https://www.regonline.com/sipnoc2017.
ABOUT THE SIP FORUM
The SIP Forum is an IP communications industry association that engages in numerous activities that promote and advance SIP-based technology, such as the development of industry recommendations; interoperability testing events including SIPit; and special workshops, educational seminars, and general promotion of SIP in the industry. The SIP Forum is also the producer of the annual SIPNOC conferences (for SIP Network Operators Conference), focused on the technical requirements of the service provider community. One of the Forum's notable technical activities is the development of the SIPconnect Technical Recommendation – a standards-based SIP trunking recommendation that provides detailed guidelines for direct IP peering and interoperability between IP PBXs and SIP-based service provider networks, and the SIPconnect Certification Testing Program, a unique certification testing program that includes a new certification test suite and test platform, as well as an associated "SIPconnect Certified" logo program that provides an official "seal of certification" for companies products and services that have successfully passed the certification test and officially achieved conformance with the SIPconnect specification. For more information about SIP Forum initiatives, please visit: https://www.sipforum.org.