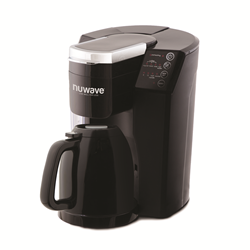 In addition to our popular air fryers, we are really excited about BruHub Coffeemaker and our Moxie Vacuum Blender.
CHICAGO (PRWEB) October 16, 2017
NuWave LLC. is ready to take on Q4 and the Holiday Season with a range of exciting new products. The goal is to transform the modern kitchen with smart appliances and cookware that lead to healthy living and reduce footprint big time.
As one of the fastest growing consumer brands, NuWave LLC. has disrupted the small appliance industry with its revolutionary countertop oven. Since then, it has come up with other innovative products like the induction cooktop, and the very popular air fryers.
Commenting on the new lineup, Keith Hamden – Senior Vice President of Sales, NuWave LLC. said, "All of us at NuWave are eagerly anticipating the upcoming Holiday Season. We are introducing a number of new products that will be featured on national infomercial campaigns. All of them are trend-right, and contain "best in class" performance features. In addition to our popular air fryers, we are really excited about BruHub Coffeemaker and our Moxie Vacuum Blender."
A sneak peek at the new lineup of NuWave products:
Air Fryers – The NuWave Brio Digital Air Fryer was launched in 2016. It immediately hit the bestseller list and continues to be a popular choice for consumers. Demand is high for the market-leading air fryer, and the company expanded the assortment to include consumer-requested larger sizes. 2017 has seen the launch of FOUR different sizes, including the 6QT and 10QT, that are hitting on the trend of healthy living.
A product that allows consumers to enjoy fried food without the use of oil is revolutionary and is the new way to cook healthy. NuWave is also offering Air Fryer Accessory Kits which include a baking pan, baking rack, and additional recipes – all of which will ensure higher consumer satisfaction with these fryers.
Coffeemaker – The NuWave BruHub™ Coffeemaker is one of our most awaited products in 2017. This unit can do a single cup or a carafe of your favorite blend. The Hot Water setting and Insert lets you make soup, tea or cocoa with no coffee taste. The detailed engineering will ensure a hot and flavorful cup every time. Coffee lovers have never enjoyed the perfect taste and excellent value in their coffee machine, as they will now.
Digital Skillet – Other significant introductions include the Medley™ 16" Digital Skillet with a digital probe for precise temp control and ceramic non-stick coating. It is a "must-have" at $50.
Vacuum Blender – In addition to saving time and money, the Moxie™ Vacuum Blender with a revolutionary vacuum-blending technology will help preserve vitamins, nutrients, flavor, and appearance. It has a MAP retail under $250!
Non-Stick Cookware – The new line of Duralon® ceramic coated cookware offers the ultimate non-stick surface. It is induction-ready and can be used with conventional ovens too. This cookware range includes open-stock units and sets. The styling and non-stick coating will make cooking enjoyable and clean-up a breeze.
Modern, stylish and convenient – that's the buzzword behind the new products and these seamlessly blend in with the healthy and easy cooking philosophy that the NuWave brand stands for.
About NuWave LLC
NuWave LLC has led the market in advanced and innovative countertop kitchen appliances. The flagship product, NuWave Oven, was launched in 2002 and became the No. 1 countertop oven in the world. Since then, it has introduced the NuWave Precision Induction Cooktop, the NuWave Duralon™ non-stick Cookware, and the Brio Digital Air Fryer. The latest in their line of innovative products is the upcoming BruHub™ Coffeemaker. For more information about the company and products, please visit, http://www.nuwavenow.com/
For further information, contact:
Bambi Majumdar at (224)206-3068 / bambi.majumdar(at)nuwavenow(dot)com
Social: Instagram: @nuwave.now. Twitter/FB: @nuwavenow