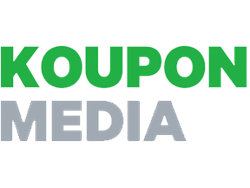 The Offer Network is revolutionizing how brands deliver offers in the convenience industry.
Dallas, Texas (PRWEB) October 18, 2017
Today Koupon Media, the leading mobile offer platform and retail network, announced significant growth in its flagship offering the Koupon Offer Network. The Offer Network launched in 2015 to connect CPG brands with small format retailers to power mobile offer campaigns. Focused on convenience, dollar and drug formats, the Offer Network now powers mobile offers for over 33,000 retail locations and many of the largest CPGs in the world, making it the largest promotion network in small format retail.
"The Offer Network is revolutionizing how brands deliver offers in the convenience industry," said Bill Ogle, CEO of Koupon Media. "The growth witnessed over the past year validates the solution the Offer Network brings to these major brands. Through the Offer Network, we are strengthening the value of brand offerings with the latest innovations in the space. The Offer Network brings all aspects of the mobile offer process together to accelerate performance - from brand distribution to secure, in-store redemption."
In just two years, the number of annual Offer Network campaigns has grown by more than 500%. Not only has Koupon Media sourced more campaigns each year, but the reach and duration of the campaigns has also increased. The average size of an Offer Network campaign has grown by 300%, driven by an increasing number of repeat campaigns from major CPG brands. Koupon expects this growth to continue in 2018 with plans to double the number of its campaigns once again.
As the Offer Network continues to grow, this solution becomes more impactful for brands and retailers alike. Tens of thousands of small format retail locations across the US now participate in the Offer Network and over 30 major CPG brands in packaged beverage, snacks, candy, beer and tobacco categories have implemented campaigns to distribute content through Koupon Media.
Added Ogle, "When it comes to mobile coupons, one of the hardest parts for brands and retailers is reaching the people most likely to redeem. As we welcome new retailers into our network, and more brands distributing content, we look forward to continue driving sales for our clients."
About Koupon Media
Koupon Media was founded with the mission to help marketers deliver exceptional value to their customers. Delivering more than 3 billion offers since its founding, Koupon Media is the mobile offer industry leader, powering mobile offers for more than 43,000 retail locations and the world's largest CPG brands. In 2016 alone, the Koupon Platform powered more than 6,600 offer campaigns reaching over 40 million customers, driving over 90 million store trips.