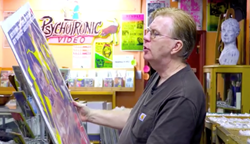 By now you know that we sometimes take an unexpected road to find our voices. Weldon's book (The Psychotronic Encyclopedia of Film) was proof that even the most unlikely idea had a chance. If these movies existed, then surely whatever measly story was bubbling in my brain was not so preposterous.
SPRINGFIELD, Mo. (PRWEB) October 17, 2017
After being inspired by author Michael J. Weldon's "The Psychotronic Encyclopedia of Film" as a teen, a local man is paying homage to the author and book that changed his worldview.
Says Jeff Adams, documentary producer, "I bought the book as my parents were divorcing; my world was rocked, and the book thrust me into a place that I could escape from real life. I learned that people weren't carbon copies of each other, and it was okay to be different."
Weldon's book, a compilation of "grade Z" film reviews, explored the art of unlikely dreamers. Outlandishly bizarre films like John Waters' "Pink Flamingos" and Russ Meyer's "Beyond the Valley of the Dolls" were treated as artistic equals to blockbusters of the day, with detailed synopses and reviews of actors, directors, and cult movies.
"The most incredible part of this book is the number of artists it inspired. Weldon's treatment of these films that had otherwise been snubbed by critics and audiences alike gave emerging artists confidence to chase their own dreams of film. Artists like Pulitzer Prize-winning Colson Whitehead, comedian Patton Oswalt, and director Quentin Tarantino followed their passions due to Weldon's writing," said Adams.
"The Psychotronic Documentary" has received support from New York's "The Village Voice," which contributed over $8,000 in production equipment, Lisa Petrucci's "Something Weird" film catalog, and Adams has conducted numerous interviews from Weldon, Petrucci, Frank Conniff of Mystery Science Theater 3000, and Christopher Cerf of PBS in addition to others.
Adams, along with his producer, Chilean filmmaker Sergio Karmy, are now seeking to fund pre-production through an Indiegogo campaign at https://www.indiegogo.com/projects/the-psychotronic-documentary-movies
You can also find The Psychotronic Documentary on:
Facebook
Twitter
Vimeo
Google+
thepsychotronic.com
Quote by: Colson Whitehead, 2017 Pulitzer Prize-winning author of The Underground Railroad, from The New Yorker, "A Psychotronic Childhood."
###