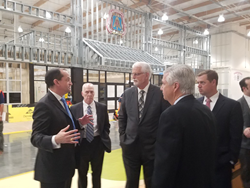 Washington, D.C. (PRWEB) October 16, 2017
The United Brotherhood of Carpenters and Joiners of America (UBC), representing over 500,000 members, supports Secretary of Labor Alexander Acosta in naming UBC General President Douglas J. McCarron to the Department of Labor's Task Force on Apprenticeship Expansion. Of hundreds of nominations received, the DOL has selected three individuals to represent labor.
The Carpenters Union apprenticeship programs have been a key to men and women building a long-term career in carpentry-related trades since the founding of the UBC in 1881. Today, the more than half-a-million men and women of the UBC have access to life-long learning and career development thanks to programs offered through the Carpenters International Training Fund (CITF) and the affiliated training programs in their local areas. In fact, working with tens of thousands of employers, apprenticeship training is currently offered at more than 200 training centers across North America.
General President McCarron said, "I look forward to working with Secretary of Labor Alexander Acosta to ensure the on-going success of existing, bona fide programs while using these tried and true principles to expand apprenticeships to new industries."
Because apprenticeship can be a pathway to a good career and enables industry access to continued growth of a skilled workforce, the UBC supports the Department of Labor's initiative to expand apprenticeship to other industries across the U.S.