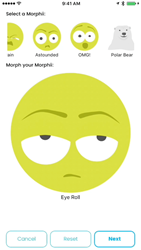 "Morphii allows kids to connect and learn across digital platforms by simply enabling them to express the thing that comes most naturally to them: emotions."
Charleston, SC (PRWEB) October 17, 2017
Morphii is a digital tool created by the team at Vizbii that marries the fun of emoji with the scientific accuracy of behavioral science. Through this partnership, Morphii is now safely in the hands of children on the iOKids app through its social engagement features (magic messages, profile photos, and chat). The iOKids platform is the world's only kid-safe family network certified to meet the highest level of privacy compliance under the Children's Online Privacy Protection Act. Using the Morphii tool through the iOKids platform will allow companies to learn more about what their youthful clientele enjoy by leveraging this science-of-emotion data. By learning how certain media and apps make iOKids users feel, brands can glean valuable insights about product functionality, user experience and usage.
"iOKids gives kids unprecedented accessibility, all while remaining safe, which is so important," says Julie Moreland, CEO of Viizbi International, creators of Morphii. "Technology has been said to be replacing human connection, but at Vizbii, we know that technology can be used to enhance our connections rather than fray them. Our tool, Morphii, allows kids to connect and learn across digital platforms by simply enabling them to express the thing that comes most naturally to them: emotions."
"Morphii is a perfect addition to the iOKids platform because it is not only highly interactive and fun for kids to create and share Morphiis with friends, but it also allows kids to explore and engage with emotion through emojis grounded in real science," Krissa Watry says. "Morphii will also be available as a tool on the iOKids platform and we are excited to see how our brands and developers use Morphii for feedback, interaction, and creative features in their apps, toys, and games."
Since Morphii is language and dialect agnostic, it expands the accessibility of iOKids games, apps and media to not only younger children, but also to those with significant developmental disorders.
About Morphii: Morphii, product of Viizbi International, is a digital measurement tool that allows you to go beyond sentiment. It marries the science of emotion and engagement of emoji to help people express, connect and learn across digital mediums. Viizbi International is a start-up headquartered in Charleston, SC focused on bringing more of the human experience to an increasingly digital global landscape. Learn more at morphii.com.
About iOKids: Dynepic® is trailblazing the safe connection of kids into the digital world with its iOKids® platform, allowing brands to launch the coolest, cutting edge technology powered through a privacy compliant and kid-safe family network. The iOKids app brings together kid-safe social, video, and the Internet of Toys® in a single platform with a secure API for brands to safely power their products and drive 360-degree engagement with the highest level of COPPA verifiable parental consent. iOKids is play. connected. The iOKids app is currently available for download in the US on the Apple App Store. The Android app and developer API will be available later this year. Find out more on iOKids at http://www.iokids.net.