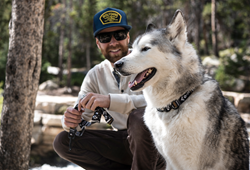 SALT LAKE CITY (PRWEB) October 18, 2017
There's a reason why Loki The Wolfdog has over a million-and-a-half followers on Instagram @loki_the_wolfdog…he's handsome, mysterious, and spends most of his time being photographed in some of the most picturesque locations in the West. The result is one of the most captivating and entertaining feeds on the popular social media platform.
For its part, Salt Lake City based Wolfgang Man & Beast has been changing the game in the world of pet products since its launch in 2013 by bringing its world-class product design to the fastest growing demographic in the pet business; millennial pet parents. Wolfgang products are Made In USA and are available in hundreds of stores worldwide, as well as from their own website, WolfgangUSA.com. Like Loki, Wolfgang does an excellent job of garnering and entertaining large numbers of loyal and dedicated Instagram followers @WolfgangManAndBeast.
The Wolfgang crew have been fans of Loki The Wolfdog for years, so who better to team up with on a new project? The LokiWolf series is the result of a collaborative design effort focused on bringing out the true spirit of this charismatic, four-legged fur-hero, while paying tribute to the cultural tapestry of the American West. Tonal grays and rich gold combine in the form of timeless graphic elements with an instantly iconic result.
To coincide with the release of this exciting product series, Wolfgang and Loki have teamed up with Utah's Lux Nova Films to create a new, and visually stunning video starring Loki and his dedicated owner, Kelly Lund. While thoroughly engaging, this video is also informative about the challenges of working with this special type of dog; one that is not far removed from the wild origin of all dogs…the wolf. The video tracks this pair of free-spirits through a couple days of camping and exploring in the wilds of Utah while offering a glimpse of the new LokiWolf product line.
The Wolfgang Man & Beast LokiWolf series will be offered in all sizes of collars, leashes, and harnesses through select retailers nationwide. A store locator and more product details are available at WolfgangUSA.com.
Wolfgang Man & Beast -
WolfgangUSA.com
Loki The Wolfdog -
LokiTheWolfdog.com