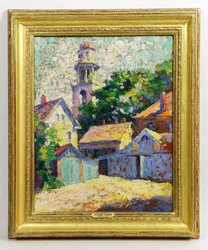 ESSEX, Mass. (PRWEB) October 18, 2017
On October 21st Kaminski Auctions will hold an On-Site Auction featuring an outstanding collection of Continental and American antiques at 41 John Wise Avenue, Rt. 133, Essex, Massachusetts starting at 10:00 am EST.
Contents of the house and barn will be auctioned which includes a selection of fine art, continental and American furniture, elegant furnishings, porcelain, crystal and more. There are also two late model cars, a 1985 Jaguar XJ6 and a 1968 Chevrolet Corvette included in the sale.
Furniture highlights include an early 19th century, Thomas Seymour mahogany card table with banded inlay valued $2,000-$3,000, an early 19th century Sheraton Kentucky tiger maple four drawer chest, signed Thomas Heston, and dated 1818 and a signed Limberts Arts & Crafts oak oval table.
Fine art in the auction features an Anthony Thieme (1888-1954), village scene, oil on board, a George Moreland (1763-1804), oil on canvas titled "At Tavern Entrance" with an Anderson Galleries label, a David Johnson, Hudson River scene, as well as a Theodore Valenkamph, oil painting of a clipper ship on the high seas.
Gloucester paintings include a C.H. Johnson (American, 1874-early 20th C.) view of Gloucester harbor with boats at dock with and a Michael B. Karas (American, b.1954), oil on board titled "Gloucester Haze."
Continental art features a Pierre Latour, flower market scene, oil on canvas purchased at Charles Hecht Galleries of California.
Preview for this auction will take place Thursday and Friday, October 19 & 20, 2017 10:00 am-5:00 pm, and the day of the sale starting at 8:00 am. The preview will be open during the live auction.
For more information on this exciting Fall On-Site Auction go to http://www.kaminskiauctions.com and sign up to bid with KaminskiLIVE. Follow us on Facebook and Instagram for live updates from the auction.