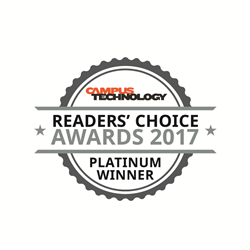 Ridgeway, Ontario (PRWEB) October 17, 2017
Chalk & Wire, the most trusted educational assessment technology platform, today announced that Campus Technology readers named the company the No. 1 ePortfolio provider for a second consecutive year. Additionally, Chalk & Wire's CWPro, an ePortfolio-enabled assessment platform, was recognized as the second most valuable product and the third overall favorite technology used at colleges and universities.
A Campus Technology reader said, "CWPro by Chalk & Wire is a great means of accepting multimodal assessment forms, with excellent reporting and data analytic tools for tracking student progress across their degree."
More than 600 respondents across a variety of higher education roles and institutions voted on Campus Technology's Readers' Choice Awards. The program honors the most outstanding higher education products and services in a variety of technology categories.
"Chalk & Wire is honored to be recognized by Campus Technology readers as one of the most valuable technology resources for higher education institutions," said Geoff Irvine, CEO, Chalk & Wire. "Our team continues to innovate with new features and functionality in order to help institutions verify student learning outcomes, empower faculty and administrators to make data-driven decisions and achieve accreditation success."
To see the complete list of winners, visit Campus Technology and for more about Chalk & Wire, visit http://www.chalkandwire.com.
About Chalk & Wire
For more than two decades, Chalk & Wire has focused on improving the student learning experience. Through customized guidance and utilizing a 360-degree approach to learning, Chalk & Wire provides 21st century tools and processes that monitor and verify student growth, support instruction, enhance pedagogy, motivate students, manage accreditation and connect learners to employers.
# # #