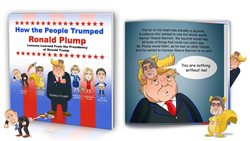 A Book That Even The President Can Read
Fort Myers, Florida (PRWEB) October 17, 2017
Have you ever wondered, "How in the world am I going to teach my kids that they shouldn't behave like President Trump?"
So have a lot of parents, including twin brothers Ed and Brian Krassenstein. For those of you who frequent Twitter, these two men have been rather outspoken when it comes to the actions and inactions of President Trump. The two men, fathers themselves, have been trying to figure out a way to teach their children that, even though President Trump is the President of the United States of America, it doesn't mean that they should mimic his actions.
"President Trump is a counterexample to the examples I try to set for my children," co-author Ed Krassenstein stated. "It's difficult when we teach our children how to act one way, but then the President of the United States acts the complete opposite way. This man is supposed to be a role model for our kids, but in my opinion and the opinions of many other parents, he is simply teaching our kids bad lessons and poor morals."
This is what led Ed and his twin brother Brian to write a humorous children's book which tries to make sense of, and explain the actions of President Trump through a character named Ronald Plump.
"Ronald Plump is a man who is elected leader of the town, 'Do Work City'," Brian Krassenstein explains. "Plump's actions go against the morals which we teach our kids, but in the end, hope, equality, love and basic human values prevail. Parents will love this book's humor and storyline just as much, if not more, than their children."
How the People Trumped Ronald Plump, features illustrations by the talented Benny Rahdiana and incorporates characters which relate quite closely to current events. Characters include:
Weave Bannon, a squirrel who lives on Ronald Plump's head, controlling his everyday thoughts and actions, while also providing for quite the hairpiece for the misguided leader.
Loudimir Tootin, a foreign leader who also wields much influence over Ronald Plump. He is an interesting character who 'toots' rockets from his rear-end.
Persistent Warren, a woman who is a representation of strength, determination and persistence.
Others including: Iwannabe Plump, Jared Nepotism, and Robert Moral.
"The main lessons we wanted to teach our children in this 40+ page hardcover book, are that while we should all respect the Oval Office, sometimes even the President of the United States doesn't act or say things the way he should," Ed Krassenstein explains. "We must still find a way to teach our children to respect one another no matter what color one's skin is, what religion one follows, or what political party one is affiliated with."
The Krassensteins are looking to raise $25,000, via Kickstarter, in order to fund the production and publication of this book, and to provide America's children with hope in times when the nation is so divided.
"No matter which political party you are affiliated with, this book will teach your children valuable lessons, while not alienating any particular group or political party," says Brian Krassenstein.
You can find out more on How the People Trumped Ronald Plump, via Kickstarter at: https://www.kickstarter.com/projects/ronaldplump/75598857?ref=6dysrh&token=330dac20
PR Contacts:
Email: ronaldplumpbook(at)gmail.com, ed(at)edkrass.com
Twitter: @EdKrassen, @krassenstein