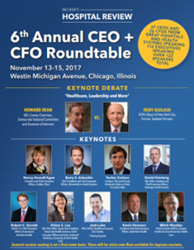 (PRWEB) October 17, 2017
Please join Becker's Healthcare as they host over 122 total speakers that include 64 CEOs and 26 CFOs Hospital and Health System speakers. Great topics and speakers focused on core issues, opportunities and strategy for the hospital or health system CEO and CFO audience. The conference is expected to bring together 1,000+ attendees.
Hear from celebrity keynotes by Tucker Carlson, Co-Host, FOX and Friends Weekend; Editor-in-Chief, The Daily Caller; Howard Dean, MD, Former Chairman, Democratic National Committee and Governor of Vermont and Rudy Giuliani, 107th Mayor of New York City; Partner, Giuliani Partners.
Attend the conference to hear from the following industry experts:

Nancy Howell Agee, President and Chief Executive Officer, Carilion Clinic
Barry S. Arbuckle, PhD, President and Chief Executive Officer, MemorialCare Health System
David Feinberg, MD, MBA, President and Chief Executive Officer, Geisinger Health System
Josh Luke, PhD, FACHE, Healthcare Futurist, USC Faculty
Kevin Vermeer, President and Chief Executive Officer, UnityPoint Health
Mitch Wasden, Chief Executive Officer, The University of Missouri Health Care
Thank you to our sponsors:
​Abbott
Accelerate Diagnostics
AlertMD
Allscripts
American Well
athenahealth
Boehringer Ingelheim
Cardinal
Carena
Center for Medical Interoperability
Change Healthcare
Cigna
Conifer
Exela Pharma Sciences
GE Healthcare
Healogics
HealthCare Appraisers, Inc.
Heron Therapeutics
Inovalon
Intarcia Therapeutics
Intarcia Therapeutics, Inc
Intermedix
InTouch Health
Lumeris
Marketware
McKesson Medical-Surgical
Medistar Corporation
Microsoft
NAPA
nThrive
Nuance
OM1
Oneview Healthcare
Optum
Pacira Pharmaceuticals, Inc.
Philips
Premier Inc.
Prism Healthcare Partners
Regent Surgical Health
RelayHealth
ReportingMD
Shields Health Solutions
Surgical Directions
Tea Leaves Health
TeamHealth
TEG Architects
Teladoc
True Health
VestaCare
Virginia Mason Institue
VMG Health
Willis Towers Watson
Workday
Zotec Partners
abeo
Algorithms for Innovation (University of Utah)
Aon Hewitt
Apogee Consulting Group
Bank of America Merrill Lynch
Barings
BE Smith
BMO Harris Bank
Capitol Consulting
Care Payment
CareSkore
Catalyst HRE
Coker Group
Concur Technologies
Echelon Medical Capital
Edgility
Envision Physician Services
Evolent Health
GeBBS Healthcare Solutions
Haystack Informatics
Health Dimensions Group
HealthScape Advisors
IBM Watson Health
Island Medical Management
Lab Logistics
Lori's Gift
McBee Associates
MDsave
National Research Corporation
Outcome Health
Ponder & Co.
Premier
Qventus
Raymond James
SEI
Society of Actuaries
Stanson Health
Surgical Theater
Talent Plus
The Greeley Company
URAC
Urgent Care Partners
View Inc
Zero Gravity
ZocDoc