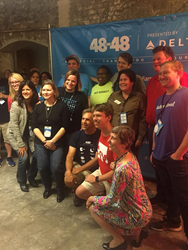 The Clarkston Community Center staff, board and volunteers are very grateful for all of the hard work, time and energy BKV and 48in48 put into creating this wonderful website.
Atlanta, Georgia (PRWEB) October 19, 2017
For the third consecutive year, Atlanta ad agency BKV had a large presence at the annual 48in48 presented by Delta Air Lines hackathon-style event in Atlanta. During the 48-hour event, local marketing professionals — including designers, copywriters, project managers and others — create 48 custom websites for local nonprofits, completely free of charge.
BKV's support of 48in48 grows deeper every year. For the 2017 event, several employees volunteered in leadership roles for both the planning and execution of the event; the agency also taught two short courses for the participating nonprofits, one on free tools for nonprofits and the other on best practices for local SEO.
The robust team of volunteer designers, art directors, copywriters and project managers took on the heavy lifting. Teams worked around the clock from Friday night to Sunday night to concept, design, write and build brand new websites for two of the event's nonprofits.
Every year, 48in48 also recognizes the best websites created during the event. This year, BKV was awarded first place for the new Clarkston Community Center website, as well as Best Homepage for the redesigned site for STEAMsport, Inc.
Cindy Bowden, Executive Director of Clarkston Community Center, added, "The Clarkston Community Center staff, board and volunteers are very grateful for all of the hard work, time and energy BKV and 48in48 put into creating this wonderful website. We have already received many compliments and it has only been live a few days. The new website will enable us to reach our audiences with clarity and precision."
Virginia Doty, EVP Director of Nonprofit Accounts at BKV, reflected, "The 48in48 event is always inspiring, and this year was no exception. The nonprofits who participated are all making a real difference in the Atlanta community. To have the opportunity to join with others in our industry to build beautiful, innovative, hard-working websites for them is a privilege. After our team gets caught up on their sleep, we'll start planning for 2018!"
To learn more about 48in48, visit 48in48.org/.
About 48in48
48in48 is a 501c3 nonprofit that brings digital marketing professional together to create websites and marketing materials for nonprofits around the world. In 2015, Jeff Hilimire of Dragon Army and Adam Walker of Sideways8 brought 150 digital marketing professionals together in Atlanta to build websites for 48 nonprofits in 48 hours. They understood that nonprofits spend their time and resources to do good, and they wanted to help those nonprofits look good as well. From their vision, 48in48 was created to help the helpers — and in doing so, to strengthen our communities. Per event, 48in48 provides more than $1.5 million in services - including websites, logos and marketing support - for nonprofits in Atlanta, New York, Boston and Minneapolis. For more information visit, 48in48.org/.
About Clarkston Community Center
Established in 1994, the Clarkston Community Center offers programs for children, teens, adults and seniors, centered around education, wellness, art, recreation and community building. The Center serves over 56,000 individuals annually, primarily from Clarkston and greater DeKalb County, Georgia, many of whom have immigrated to the United States or are newly-arrived refugees. The Center relies on private donations, corporate support and financial grants to provide its numerous services and programs to the community. To learn more, visit their new website at http://www.clarkstoncommunitycenter.org.
About STEAMsport, Inc.
STEAMsport, Inc., based in Atlanta, GA, is a nonprofit organization that provides science, technology, engineering, arts and math (STEAM) exposure, education and competition specifically focused on youth living in underserved communities. The organization's mission is to provide free, accessible and effective STEAM programming leading to secondary education and then to STEAM careers with the goal is closing the circle in generational poverty. For more information visit, http://www.steamsport.com.
About BKV
BKV is an Atlanta-based full-service direct and digital advertising agency specializing in using data-driven strategies that make brands work harder. BKV's client portfolio includes local, national and global brands. The agency provides digital and traditional media services, as well as creative, web development, email marketing, CRM, SEO, social media, digital PR, direct mail, DRTV, database management, analytics and data modeling. BKV is a part of unified.agency which has offices in Atlanta, New York, Chicago and Princeton, NJ. For more information, visit http://www.bkv.com.