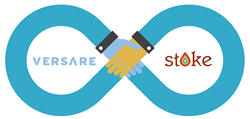 Versare's sound panels help dampen sound within the classroom space, providing greater privacy while maintaining an open office feel.
MINNEAPOLIS (PRWEB) October 17, 2017
Versare Solutions LLC, a manufacturer and retailer of office room dividers and sound panels, often collaborates with other small businesses to improve the form and functionality of their workspaces. Recently, Versare partnered up with Stoke co-working space in Denton, Texas. Together, the two small businesses built a peaceful environment for the workers utilizing the space.
Stoke is located in downtown Denton TX, near multiple local businesses, and has an open office layout meant to foster creativity and networking. The coworking space exists to give solo remote workers and small businesses without their own offices a chance to work in an office setting. Members can reap the benefits of a traditional office, like working in a less noisy or distracting space than a coffee shop or home office, while getting a chance to network with people from a variety of backgrounds.
But Stoke's classroom area, which is adjacent to the main office space, needed revamping due to its lack of a door and unwieldy acoustics. The brick walls, garage door, and lack of a wall or door separating the classroom and open office areas made for a noisy room and complete lack of sound dampening. When the acoustics in a space are poor, it can create an echo effect. Noise can also travel to other parts of a space easily. But sound dampening products can alleviate those issues.
Versare provided the co-working space with its Room Divider 360 in a 6'10" x 25' configuration to cover the large opening to the classroom area. The acoustical fabric panels provided the sound dampening necessary to make both areas of the co-working space simultaneously operational. Additionally, Sound Stones acoustic panels were hung on the walls close to the entrance to provide sound dampening to the kitchen area. Additional sound panels were added by the stage area to help regulate sound. Now Stoke can hold conferences, meetings, lectures, and events in the classroom area without disturbing the people doing their work in the open office. Versare products allow a coworking space to maintain the community atmosphere while helping to improve visual and acoustical appeal.
About Versare:
Versare Solutions, Inc. is a Minneapolis-based manufacturer and retailer of portable room dividers, privacy screens, partitions, barricades, and other portable products. Versare handles the manufacturing and shipping of all products directly from their MN headquarters, with most products being built in the USA. Co-founders Robert Jantschek & Jeff Ryan initially created the company to offer a more lightweight, durable, and sturdy room divider than what had previously been found on the market. Their selection of products has grown over the years to include a wide array of portable barricades, configurable office cubicle partitions, economical fabric dividers, and outdoor wicker privacy screens.