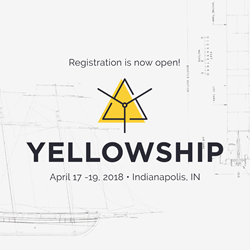 "I'm super excited to see Yellowship come to Indianapolis. The Lessonly team continues to impress and inspire me—and I'm sure that this conference will do the same." — Scott Dorsey, Former CEO of ExactTarget
INDIANAPOLIS (PRWEB) October 17, 2017
Lessonly, the leader in team learning software, today opened registration for their inaugural user conference, Yellowship. Lessonly expects more than 250 thought leaders and professionals to attend Yellowship in April 2018, with plans for rapid growth in the years to come. The theme of the two-day conference is, "Learn Together, Win Together"—and in that spirit, Yellowship is about inspiring businesses to reach remarkable new heights, while championing connection and fellowship.
"We've found there is no better way to deepen relationships than getting face to face," said Max Yoder, Lessonly's CEO. "Yellowship is focused on moving teams forward through intentional learning, practice, and performance."
Former ExactTarget CEO Scott Dorsey weighed in as well. "I'm super excited to see Yellowship come to Indianapolis," Dorsey said. "The Lessonly team continues to impress and inspire me—and I'm sure that this conference will do the same." Dorsey is currently Managing Partner at High Alpha, the venture capital firm that served as an early investor in Lessonly.
Today the conference also announced its first two keynote speakers:
Kyle Maynard is a bestselling author, athlete, entrepreneur, and ESPY award-winner known for being the first quadruple amputee to reach the summits of Kilimanjaro and Aconcagua without the aid of prosthetics. Kyle will share insights gleaned from his life and his best-selling book, No Excuses.
Jay Baer has started five multi-million dollar businesses, and is an experienced speaker, active venture capitalist, technology advisor, and tequila collector. His keynote, entitled Hug Your Haters, is rooted in insights from his recent bestselling book of the same name.
More keynote speakers and an extensive list of industry-leading breakout speakers will be released in the coming months. Yellowship will be held at the Mavris Arts and Event Center in downtown Indianapolis, from April 17-19, 2018. For more information about Yellowship 18, visit the conference website.
Lessonly has doubled in size each year, for the last 5 years, and continues to fuel the Indy economy through a series of ongoing hiring initiatives. The company will continue hiring for numerous roles in sales, client experience, enablement, recruiting, operations, and product through the end of 2017. Current openings can be found on Lessonly's website.
About Lessonly
Lessonly is modern team learning software used by over 975,000 learners at more than 450 companies to translate important work knowledge into Lessons that accelerate productivity. Sales teams across the world use Lessonly to reinforce best practices, accelerate rep performance, and close more deals. Support teams across the world use Lessonly to serve customers faster, drive consistent support, and elevate the customer experience. Learn more at Lessonly.com.
Follow us on Twitter at @Lessonly and like us on Facebook at facebook.com/lessonlyapp.