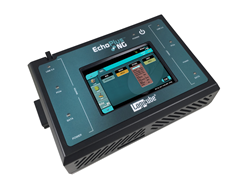 "The EchoPlus-NG provides high-end features in a compact package and at a budget-friendly price." stated Mr. Farid Emrani, President and CEO of Logicube. "No other portable 1 to 1 duplicator on the market can match the performance and broad interface support, including PCIe, of the EchoPlus-NG," con
Chatsworth, CA (PRWEB) October 18, 2017
Logicube® Inc., the industry's leader in hard drive duplication and digital forensics, has announced the addition of the EchoPlus™-NG to its premier line of high performance hard disk drive cloning solutions. This is the 2nd generation of one of the company's most successful products, the EchoPlus.
"The EchoPlus-NG provides high-end features in a compact package and at a budget-friendly price." stated Mr. Farid Emrani, President and CEO of Logicube. "No other portable 1 to 1 duplicator on the market can match the performance and broad interface support, including PCIe, of the EchoPlus-NG," continued Emrani.
The EchoPlus-NG provides extremely fast cloning speeds at 18GB/min, supports SATA, USB3.0 and PCIe M.2 drives. Cloning modes include Mirror Copy, a bit-for-bit copy, and CleverCopy mode which copies only data areas, skips blank sectors and scales partitions to the target. The highly portable size and weight of the EchoPlus-NG makes it perfect for the workbench or mobile on-site applications.
This is the seventh new product that Logicube has launched this year:

A PCIe enabled version of the Talon Ultimate forensic imaging solution
A PCIe enabled version of the SuperSonix-NG multi-master/multi-target duplicator
PCIe enabled versions of the WriteProtect forensic write-blockers
The PCIe Bridge, an adapter that adds PCIe capability to the ZCloneXi volume hard drive duplicator
The ZCloneXi-Laptop that allows users to clone directly from up to 6 laptops or tablets simultaneously without removing hard drives
The WriteProtect-PORTABLE, an extremely compact forensic write-blocker that supports 3 interfaces in one device including PCIe
"We are committed to bringing the latest technology in hard drive duplication and forensic imaging to our customers," commented Mr. Emrani. "Staying ahead of the technological curve has been a hallmark of our engineering development and design. No other company in our market segment comes even close to the magnitude, breath and frequency of new product introductions as Logicube's. While some of Logicube's competitors struggle to introduce a new forensic imager (let alone commercial duplicators) every few years, Logicube has traditionally introduced at least 2-3 new products every year and this year has surpassed all such track records by launching half a dozen new products, excluding software updates and feature enhancements added to its existing premier products," continued Emrani. "Continuous assessment of the challenges faced in both the IT and digital forensic communities, allows us to deliver solutions that solve problems, improve efficiency and are simple to use."
The EchoPlus-NG can safely and securely sanitize hard drives and also features remote operation, allowing you to control all operations from a remote computer using a web browser.
The product is available for order immediately and will start shipping the first week of November. For more information, please contact sales(at)logicube(dot)com or visit http://www.logicube.com.
About Logicube
Logicube is the world's leader in hard drive duplication and digital forensic solutions. Founded in 1993, with headquarters in Chatsworth, California, Logicube is dedicated to delivering reliable, innovative, state-of-the-art solutions for users worldwide. The company's products are sold direct to users, through international distributors and authorized dealers world-wide. Visit their website at http://www.logicube.com or follow Logicube on Twitter, @LogicubeUSA.