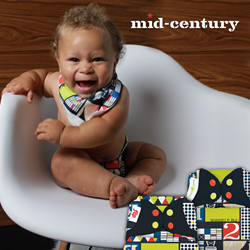 "Honoring the designers of an era that continues to inspire and influence is very exciting to us. With all of our prints, our creative team strives to create meaningful designs that are truly works of art."
St. Louis, MO. (PRWEB) October 17, 2017
Mid-Century style has come to cloth diapers thanks to Cotton Babies, Inc. The latest Genius Series print, Mid-Century, celebrates a design style that revolutionized advertising, architecture and urban development as well as product and furniture design.
Mid-Century is a bold, geometric design featuring simple lines and graphic elements. Over a few decades, Mid-Century style influenced everything from advertising, architecture and urban design to furniture and product design. Mid-Century design thoughtfully emphasizes a balance of form and function to best meet the needs of its users. This print features illustrations of iconic furniture, striking shapes and classic wood grain paired with simple but striking design elements. Mid-Century is available for a limited time in bumGenius Elemental, Original 5.0, Freetime, Littles, Big, Bigger, Flip, Flip Trainer, Outing Wet Bag, Weekender Wet Bag, Mini Wet Bag, and Pail Liner.
In the past, the Genius Series has honored individuals. However, no single individual stands alone in a creative vacuum, regardless of their field. A field of study is developed through the work of many. While a single person may get historical credit through notoriety for an important piece of work, their work is built on or influenced by the work of many others. It is interesting to single out the work of a single person, but also important and perhaps more historically balanced to draw attention to the breadth of a field. That's why Cotton Babies has chosen to celebrate the genius of mid-century design.
"My hope is that, as we actually focus on named fields of study rather than individuals, we will learn about a broader group of interesting people along the way. As we go, perhaps we will find the people among us who are also authors, physicists, cartographers, musicians, mathematicians, designers, historians, play therapists, sociologists, or find ourselves fascinated by entirely new fields of study," said Jennifer Labit, Cotton Babies founder & CEO. "Honoring the designers of an era that continues to inspire and influence is very exciting to us. With all of our prints, our creative team strives to create meaningful designs that are truly works of art."
By modernizing cloth diapers with easy-to-use designs and mesmerizing prints like Mid-Century, the company has made strides in recent years to make cloth diapers mainstream again. Visit cottonbabies.com to shop for Mid-Century and many other natural parenting solutions with great designs.
About Cotton Babies
Calling Fenton, MO home, Cotton Babies is a privately held market leader in the juvenile product industry and a diverse retailer, offering cloth diapers and a wealth of other products designed to make parenting easy. Cotton Babies is a socially active organization supporting outreach and diaper grant programs for financially underprivileged families. CEO Jennifer Labit is a founding chair of the Real Diaper Industry Association for manufacturers, retailers, diaper services, health care providers, and other parties interested in supporting the cloth diaper market. Cotton Babies products are sold on CottonBabies.com and through independent juvenile products stores and major retailers. Cotton Babies diaper brands include bumGenius™, Flip™, and Econobum™. Find Cotton Babies on Facebook, Pinterest, and the OEKO-TEX® Buying Guide.
CottonBabies.com, @cottonbabies
Contact:
Julia Lohmeyer
julia(at)cottonbabies(dot)com / media(at)cottonbabies(dot)com
(888)332-2243 x236