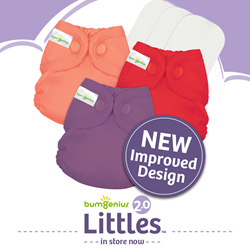 ST. LOUIS (PRWEB) October 18, 2017
Cotton Babies, Inc., maker of bumGenius®, debuted its latest cloth diaper at the ABC Kids Expo in Las Vegas this week. Littles™ 2.0 is a new and improved newborn cloth diaper by bumGenius.
Littles 2.0 are designed to fit babies up to 12 pounds. The new design features an organic cotton lining with a super absorbent core. The front of the diaper dips below the navel to protect the healing process. To increase absorbency, Littles 2.0 include a reversible doubler. In the past, some babies would outgrow their newborn diapers based on absorbency needs before size, but the one-size options were still too bulky for them. Littles 2.0 will give a trimmer fit on a newborn with more absorbency than Littles 1.0. One side of the doubler is made of organic cotton and the other is stay-dry to quickly wick moisture away from baby's most delicate skin. Littles 2.0 now comes in snap closure to keep baby's diaper secure.
"We are pleased to refresh Littles for our tiniest customers," said Jennifer Labit, Cotton Babies CEO and founder. "Offering an organic cotton solution for newborns has been long-requested and we are happy to bring it to life."
Once a baby outgrows Littles 2.0 diapers, they will fit into the one-size cloth diapers that are designed to grow with baby up to approximately 35 pounds. Littles 2.0 and the full bumGenius product line is available at cottonbabies.com and at retailers throughout the country.
About Cotton Babies
Calling Fenton, MO home, Cotton Babies is a privately held market leader in the juvenile product industry and a diverse retailer, offering cloth diapers and a wealth of other products designed to make parenting easy. Cotton Babies is a socially active organization supporting outreach and diaper grant programs for financially underprivileged families. CEO Jennifer Labit is a founding chair of the Real Diaper Industry Association for manufacturers, retailers, diaper services, health care providers, and other parties interested in supporting the cloth diaper market. Cotton Babies products are sold on CottonBabies.com and through independent juvenile products stores and major retailers. Cotton Babies diaper brands include bumGenius™, Flip™, and Econobum™. Find Cotton Babies on Facebook, Pinterest, and the OEKO-TEX® Buying Guide.
CottonBabies.com, @cottonbabies
Contact:
Julia Lohmeyer
julia(at)cottonbabies.com / media(at)cottonbabies.com
(888)332-2243 x236