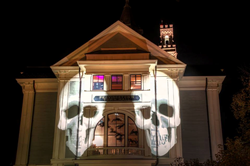 Provincetown Halloween Weekend (October 27 – November 2) is packed with plenty of activities for the 21+ crowd as well as families.
(PRWEB) October 18, 2017
This Halloween, witness Provincetown's transformation as the sun goes down, jack-o-lanterns light up Commercial Street and revelers emerge in elaborate costumes. One of the biggest celebrations of the year, Provincetown Halloween Weekend (October 27 – November 2) is packed with plenty of activities for the 21+ crowd as well as families: costume parties, haunted house dances, bar sing-a-longs, and more festive events. It's time to break out your wildest, most creative costumes for the best Ptown Halloween yet!
Kick off Halloween Weekend with a tune at the Crown and Anchor's Hairspray Movie Sing-a-long (October 27). Join the Sisters of Perpetual Indulgence in rousing renditions of your favorite Hairspray songs and belt out "Big, Blonde and Beautiful" or croon along to "(You're) Timeless to Me" with the rest of the crowd. The sing-a-long includes a costume contest so be sure to don your biggest Tracy Turnblad wig and of course, break out the hairspray.
The revelry continues all weekend long at various venues throughout Provincetown. Don't miss the Spooky Bear Saints & Sinners Party – Renaissance Bears and Medieval Madness with DJ Chris Racine at Paramount and VJ Tom Yaz at Wave Bar (October 27). The following night, the bears are back at the Crown and Anchor for a full night of dancing and celebration at the legendary Costume Ball.
Halloween weekend isn't limited to parties; there are plenty of activities to keep visitors busy from morning to night. Go on an outdoor adventure with the Provincetown Ghost Tour (October 27 & 28). The 90-minute walking tour explores old Provincetown buildings and cemeteries and provides a taste of the town's long history and reported ghost stories. For those that prefer a night of live theater, take in an eerie Halloween performance of Frankenstein at the Provincetown Theater (October 5 – October 30).
For families with little ones, the Third Annual Halloween Greet n' Treat (October 31 4:30pm-6:00pm) is a fan favorite. The kids' parade will march through town in the afternoon, followed by trick-or-treating on Motta field where local businesses will hand out candy from festive, hand-decorated stations.
The fun doesn't stop when Sunday comes to a close; Provincetown Halloween Weekend runs through Tuesday (October 31) with numerous theme events and parties. Check out the Shipwreck Lounge hosted Haunted Hotel. Part Halloween party and part haunted house, this FREE event is not to be missed. Then hop over to the Ptown Ghost Hunt to investigate what's lurking in the shadows of the Unitarian Universalist Meeting House with Adam Berry (TLC's Kindred Spirits, SyFy's Ghost Hunters).
Provincetown's 2nd Annual Day of the Dead Performing Arts Festival is a community event honoring life and death through art. Inspired by the Mexican traditions of El Día de los Muertos, the Festival includes a series of art workshops, a procession, an ofrenda exhibition, a performing arts event and a dance party. Workshops begin mid-October. The procession, ofrenda exhibition, performing arts event and dance party all take place on November 2.
Join the fun and have an unforgettable time at Provincetown Halloween weekend!