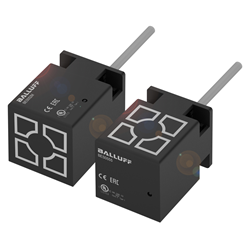 Florence, KY (PRWEB) October 17, 2017
Balluff releases the basic BES Q40 inductive sensors. The new BES Q40 sensors provide economical application solutions with a common compact form factor. With the addition of the Basic BES Q40, Balluff expands its strong line of cubic 40x40 sensors beyond the existing Factor1, extended range and ceramic coated versions. Designed for general factory automation applications, the new offerings provide two flexible active sensing surfaces with 20mm of operating distance with flush mounting capabilities.
"This sensor would work well in almost any traditional factory automation application," says Shawn Day, Product Marketing Manager for Object Detection, "and a common application includes conveying and handling in automotive manufacturing." The new basic BES Q40 inductive sensors are available with 2 meters of cable length, PNP Normally-Open output polarity and a compact 40mm by 40mm block style housing for compact mounting locations. The BES Q40 offers the additional features below:

Select the active sensing area to be on the front or side of the sensor by part number for flexible installation.
IP 67 for dusty and wet environments
Electrical: PNP Normally-Open output, 2m PVC cable, Short Circuit Protected
About Balluff Inc.: Balluff Inc., the U.S. subsidiary of Balluff GmbH, Neuhausen, Germany, is a leading manufacturer of a wide range of inductive, photoelectric, vision, capacitive and magnetic sensors as well as linear position transducers, RFID systems, and networking products. Balluff products for OEM and factory floor solutions are used to control, regulate, automate, assemble, position, and monitor manufacturing, assembly, and packaging sequences for industries including: metalworking, automotive, plastics, material handling, wood processing, aerospace, alternative energy, medical, electrical, and electronics.