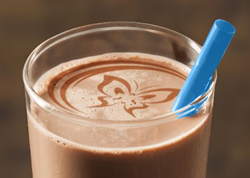 Pittsburgh, PA (PRWEB) October 18, 2017
Lutrish Chocolate Shake is formulated to provide a high calorie, great tasting alternative for individuals looking to gain or maintain weight, such as cystic fibrosis patients. With the launch today, Lutrish Chocolate Shake becomes the only chocolate flavored, high calorie product available on the market. Mixed with 8 oz. of whole milk, Lutrish Chocolate Shake contains 560 calories in a single serving.
The product is available exclusively through Lutrish.com, with plans to expand availability to select pharmacies in the near future to make it as convenient as possible for customers.
"We're excited to provide a new offering for individuals looking to add additional calories to their diet, who've been asking for a high calorie, chocolate flavored supplement," said Jennifer Michael, owner of Lutrish, LLC. "With the help of caregivers and cystic fibrosis patients, we've been working for the past year to refine the formulation to strike a balance between providing appropriate calories while also maintaining a great taste, and we're extremely excited about the end product."