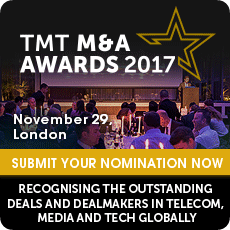 (PRWEB UK) 18 October 2017
Over 4 billion euros of mergers and acquisitions have been shortlisted for this year's Telecom Infrastructure Deal of the Year Award at TMT M&A Awards 2017 reflecting the continuing rise of deals – especially leveraged buyouts, consolidation and spin-offs - in broadband fibre and mobile towers across the EMEA region, announced news and deal data specialist, TMT Finance.
American Tower, Cellnex, FPS Towers, Global Connect, Metroweb Italia, Telxius, Swiss Towers and Enel Open Fiber are among telecom and broadband infrastructure operators featured on the shortlist along with private equity investors and infrastructure funds including: KKR, Antin Infrastructure Partners, EQT and Deutsche Telekom Capital Partners. Investment bank advisers featured on the shortlist are HSBC, Citi, JP Morgan, Morgan Stanley and UBS.
"The mobile and fixed communications infrastructure sector is changing rapidly across Europe and globally and mergers and acquisitions will play a major role in growth and development of the leading operators," said Ben Nice, Managing Editor of TMT Finance. "Valuation multiples of telecom towercos and fibre operators are at record highs and the current wave of deal activity has reached new levels, as larger players seek to build scale through consolidation, while private equity firms and institutional investors target a range of new LBO deals. The next phase of growth will see several major European and African towerco IPOs and M&A, while deal flow in towers also continues to accelerate in South and Southeast Asia," said Nice.
Many of the leading telecom infrastructure operators, private equity investors and investment bankers will meet to assess the latest opportunities at TMT Finance World Congress 2017 which takes place in London, and also features TMT M&A Awards 2017. Key speakers at the congress include c-level executives from TDF, Cellnex, Hyperoptic, Eurofiber, Digital Bridge, Warburg Pincus, American Tower, EQT, Broadnet, Cinven, Arqiva, Tampnet, Helios Towers Africa, AMP Capital, Eaton Towers, Sodetel, Gigaclear, Providence Equity, EIB, Antin Infrastructure Partners and IFC as well as all the leading telecom operators, Investment Banks, Investors and advisers active in the TMT sector.
TMT Finance, which specialises in exclusive news and events for senior executives in telecoms, media and tech, is currently reporting live tower IPO processes around IHS Towers, edotco group, China Tower Corp, Eaton Towers and Helios Towers Africa, as well as active M&A involving telecom infrastructure in Saudi Arabia, Spain, Finland, Italy, France, the UK, India, Pakistan, Bangladesh, Myanmar and Indonesia.
For more information, go to http://www.tmtfinance.com/world