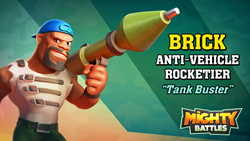 Only by building a superior squad and effectively commanding them in battle can players defeat their enemies and prove their true might.
VANCOUVER, British Columbia (PRWEB) October 18, 2017
Hothead Games, developer and publisher of the highly successful Kill Shot franchise, announced today the upcoming release of Mighty Battles, a new mobile game with a twist on first-person shooting and lane-based battle arenas.
The action-packed game will be available for iOS and Android devices on November 16th. Players can watch a trailer and sign up to receive exclusive founders items now by visiting http://www.mightybattlesgame.com. Android users can also pre-register for the app through Google Play at: https://play.google.com/store/apps/details?id=com.hotheadgames.google.free.bops&hl=en.
Combining shooting, card collecting and tactical strategy, Mighty Battles draws on Hothead's rich heritage as a leading developer of mobile shooter and card-based sports games to inspire a whole new category of easy to play, head-to-head arena warfare.
In exciting 1v1 battles, players must destroy enemy bases by shooting down advancing attacks and strategically deploying waves of specially trained units. Only by building a superior squad and effectively commanding them in battle can players defeat their enemies and prove their true might.
Squads are built by collecting units from among 40 different soldiers, vehicles, weapons and base defenses. Today, Hothead is introducing the first of the game's Mighty units, including:
Brick
Brick's rockets will put the hurt on anything the enemy throws at you. Primarily an anti-vehicle unit, he's a good all-around addition to any squad. When he isn't demolishing tanks, he also enjoys singing karaoke.
Ember
She's mighty hot! Ember torches everything with her trusty flamethrower. By scorching all enemy ground units and the enemy base with fire, Ember will continue to inflict serious damage even after an attack. Ember is particularly useful against groups of enemy units and at earning deploy coins.
Boom Bros.
Delivering double the trouble, these twin brothers are bodybuilding champions and grenade launcher specialists. Imagine if they were triplets! Each brother can shoot six grenades before reloading. If one gets wiped out, his surviving brother continues on the boom attack.
Tank
This rolling powerhouse may not be the fastest moving unit in your squad, but she packs an almighty punch once she gets there. Destroying enemy vehicle units is a formality for this beast, before she heads on to pound the enemy base into smithereens!
Attack Chopper
Keep opening card crates until you get to the "choppa," because this airborne reinforcement glides through the breeze and eliminates vehicles with ease.
Rocket Launcher
Seriously upgrade your turret. Anything caught in the explosive radius of your rockets takes huge damage. The Rocket Launcher likes to break up the party and is great for targeting and hitting groups of enemies and bigger, bulky enemy units.
Availability
Players can pre-register to be among the first to play Mighty Battles and earn exclusive founders items such as currency and unit chests at http://www.mightybattlesgame.com.
A trailer video is available at: https://www.youtube.com/watch?v=RAPuyl7gJV0
Game assets can be downloaded at http://bit.ly/MightyBattlesAssets.
About Hothead Games
Hothead Games is one of Canada's largest independent game studios. Founded back in 2006, when our Hotheads barely had cold feet, our goal was nothing less than total world domination. We continue to strive for entertainment in all things, including our award-winning mobile game catalog, our company culture, and even this self-aggrandizing boilerplate that you're reading right now. For more information, visit http://www.hotheadgames.com.
©2017 Hothead Games Inc., Hothead, and Mighty Battles are trademarks or registered trademarks of Hothead Games Inc., all rights reserved. All third party trademarks mentioned are the property of their respective owners.
Media Contact:
Matt McAllister
Fluid PR
(510) 229-9707
matt(at)fluidspeak.com
Company Contact:
Oliver Birch
Hothead Games
media(at)hotheadgames.com