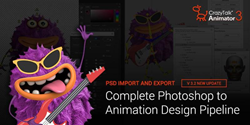 We really like CrazyTalk Animator 3, as it is so easy to create character animations. It is great for general animations, game scenes, game characters and presentation videos." - Veggie Studio
SAN JOSE, Ca. (PRWEB) October 18, 2017
Reallusion's CrazyTalk Animator 3.2 update provides a total Photoshop PSD in-and-out solution to not only help 2D Animators, but also Graphic Designers. The product allows users to save time on character creation and animated content development, thanks to a round-trip PSD pipeline that can bring artwork to life through source animation file editing with Photoshop's powerful editing features.
Turn Artwork into Animations, & Vice Versa
With the CrazyTalk Animator 3.2 Pipeline, artists can convert 2D artworks to animatable characters through PSD Templates. It also allows Graphic Designers everywhere to quickly repurpose their content with new styles, colors, accessories, and poses.
The new CTA 3.2 PSD export capabilities allow users to freely pose illustrated characters, quickly swap outfits & accessories, and create custom facial expressions prior to composing everything back in PSD design layers.
All source sprites are exported for compositing and re-editing, allowing artists to save lots of time and effort when using PSD assets to generate comic creations, magazine covers, infographics, banner designs, and much more.
Quickly Create Animated Content
With the capability to launch Photoshop and synchronize updates on character layers, CrazyTalk Animator 3.2 can send props or characters to Photoshop for further custom editing. With this ability users can easily design clothes, alter color shading, or apply filter effects to their animatable assets.
Sending content to Photoshop with logically grouped character assets makes it easy to change skin color, add multiple image segment layers, and synchronously update animatable sprites once users save the file in PSD format. Users can quickly upgrade simple illustrations to sophisticated visuals like paper cutting, hash shading, or add highlights and shading effects to individual body parts.
Animated Accessory System
Users can freely compose one or several accessories by using several prop items together and assigning pre-made animations which can later be triggered through the Right-click menu. The updated Accessory System also allows users to apply a chosen item directly to a target body part.
Generate a Whole Series of Characters
Once users set up one character, they can then quickly add new assets in Photoshop to generate abundant styles. These assets can be reused, as characters are free to pose and animate.
User Showcases - Comic Artists
"We are Veggie Studio and we are founded by three sisters that specialize in illustrations, comics, and dress up games. We really like CrazyTalk Animator 3, as it is so easy to create character animations. It is great for general animations, game scenes, game characters and presentation videos." - Veggie Studio
User Showcases - Digital Illustrator
"My name is Kimberly Larmond, a graphic designer and illustrator based in Guelph, Ontario, Canada. I have been mulling around the idea of creating animated shorts for quite some time now. However, I have been a bit reluctant to undertake this task in After Effects, as it seems monumental. I stumbled across CrazyTalk Animator 3, and I was flabbergasted!" - Kimberly Larmond
Compatible Character Animation for PSD Software
Whether a user is a Photoshop guru or prefers to use another PSD compatible character design tool, CrazyTalk Animator 3.1 fully supports PSD import with: Photoshop, Xara, Affinity Photo, Clip Studio Paint and Krita.
Try CrazyTalk Animator 3.2 - Free Download - Pipeline Version [https://www.reallusion.com/crazytalk-animator/download.html
Free Animation Video Tutorials
New tutorials on importing Photoshop PSD to CrazyTalk Animator 3.2
https://www.youtube.com/playlist?list=PLNV5zSFadPdnfZpP0ZDPjNOgOmEQmOmPJ
About Reallusion: http://www.reallusion.com- Reallusion Inc. is a 2D and 3D animation software and content developer. Headquartered in Silicon Valley, with R&D centers in Taiwan, and offices and training centers in Germany and Japan. Reallusion specializes in the development of real­time 2D and 3D cinematic animation tools for consumers, students and professionals. The company provides users with easy to use avatar animation, facial morphing and voice lip­sync solutions for real-time 3D filmmaking, and previsualization for professional post ­production. Reallusion's core technologies are widely used by trainers, educators, game developers and filmmakers.