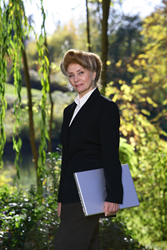 GRANTS PASS, Ore. (PRWEB) October 18, 2017
Guest: Phyllis A. Green, Superintendent, Isle Royal National Park (Houghton, Michigan), http://www.nps.gov/isro
Sharon Kleyne has earned international respect as a water advocate, researcher and discoverer of new Water Life Science® technology, yet she is also an ardent student and teacher of natural science, so it was with delight that she talked with special guest Phyllis A. Green in her capacity as host of the nationally syndicated radio program The Sharon Kleyne Hour Power of Water, Global Climate Change and Your Health on VoiceAmerica sponsored by Nature's Tears® EyeMist®.
Phyllis A. Green is the Superintendent of Isle Royal National Park on the shores of Lake Superior. According to Green, Isle Royal is the most remote national park in the entire U.S. park system. It is most immediately accessible from the shores of Minnesota and Canada, but even then the ferry ride or motor boat ride can take up to six hours. There are no cars on the island and no permanent residents. This makes for a pristine environment for hikers and other nature enthusiasts. Wildlife lovers, said Green, are not disappointed. Red foxes, red squirrels and beavers are plentiful. The island is also the site of the longest, long-term study of a predator-prey system between moose and eastern timber wolves. Both large mammals still inhabit the island, though wolves usually avoid human contact.
As an international water and water vapor evaporation expert, Kleyne was intrigued to learn that the island is really a compact series of tiny islands and that the island itself is mostly water. That is why the beavers still thrive there. Island land mass is mostly covered by boreal forest that combines with the oxygen-rich waters to produce delightful, sweet-breathing air.
Green described how the indigenous people of the Ojibway tribe had lived on Isle Royal for 4,500 years. Fur traders came to the island in the 1600s, followed by copper miners in the eighteenth and nineteenth centuries. It wasn't until 1930 that President Herbert Hoover declared Isle Royal a state park, thus protecting it for future generations.
Kleyne was pleased to hear Green description of the park's Junior Rangers Program for children and students. Green also encouraged listeners to visit Isle Royal's website to plan a visit. According to Green, the site is especially user friendly regarding trip-planning because it can be so difficult to get there. Even so, the park, which is open only from April through October, welcomes on average only 18,000 visitors a year. "The Ojibways," said Green, "had a name in their language for Isle Royal that means 'the good place'."
We invite you to listen to this syndicated radio program with special guest Phyllis A. Green. Please go here: https://www.voiceamerica.com/episode/70493/water-the-great-mystery
If you would like to contact radio host Sharon Kleyne, she can be reached at Sharon(at)biologicaquaresearch.com or 1-800 FOR MIST