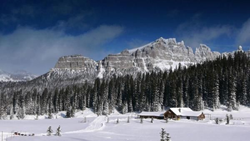 With nearly a century of history catering to guests, Brooks Lake Lodge & Spa knows how to winter well.
DUBOIS, Wyo. (PRWEB) October 25, 2017
Wyoming winters are no joke. Last year the state saw record-breaking snowfalls bring joy to locals and visiting snow enthusiasts. And with nearly a century of history catering to guests, Brooks Lake Lodge & Spa, an exclusive, all-inclusive resort tucked deep in the Shoshone National Forest near Dubois, Wyoming, knows how to winter well, typically boasting 400-600 inches of snow per year. With a projected winter forecast calling for as much if not more snow than last season, the lodge recently released its tips for best enjoying the coolest season.
The Brooks Lake Lodge 2017 winter season begins Dec. 23 and continues through March 15. With the focus on outdoor fun and indoor comfort and relaxation, the historical luxury guest ranch near Jackson Hole and Yellowstone National Park recommends how to enjoy a wild Wyoming winter getaway in style:
1. Carve & Climb on a Snowmobile. World renowned for its stunning and vast two million acres of terrain to explore, Brooks Lake Lodge treats both experienced and beginner snowmobilers to peak-experience days on a mountain sled. The lodge is equipped with high-powered Polaris and Ski-Doo snowmobiles for guest use and offers both guided and unguided half or full days of snowy adventure. This video shows some of the lodge's renowned steep and deep powder climbs for adventurous types, as well as more leisurely rides for newbies.
2. A Real Nordic Track. Guests of Brooks Lake Lodge who prefer the serenity and hushed beauty of mountain backcountry by cross-country skis can also enjoy spectacular terrain while taking in views of the Pinnacle Buttes, Brooks Mountain and Richard's Peak, or gliding across frozen 234-acre Brooks Lake. Nordic enthusiasts also have the option to kick it up a notch and ski ungroomed powder in Shoshone National Forest backcountry. Cross-country gear with easy, step-in bindings and premium boots are included in overnight stays.
3. Walk a Mile (or More) in Snowshoes. Another fantastic way to get some exercise and take in the scenery at Brooks Lake Lodge is by strapping on a pair of snowshoes and heading into uncharted territory. Also included with a lodge stay – and a great way for families to have a no-fuss outdoor winter experience – guests can enjoy a snowy nature walk through the Shoshone National Forest solo or with an experienced guide pointing out natural landmarks and foraging wildlife.
4. Après Spa. Following a day of outdoor activity at the luxury guest ranch, guests can stroll over to Brooks Lake Lodge's onsite spa to indulge in such pampering treatments as a deep tissue or Rocky Mountain massage, or perhaps an Urban Cleanse or Fruit Glow Facial. And the spacious 11-by-17-foot hot tub at the Rocky Mountain Spa overlooks scenic Brooks Lake and the mountains, making it a guest favorite for winter soaking and relaxation.
5. Fun for Foodies. All meals are included in a stay at Brooks Lake Lodge, with each course thoughtfully curated by the Wyoming luxury resort's talented culinary team. Hearty Western-style breakfasts with fresh fruits and homemade pastries start the day, followed by deliciously filling lunch options. Each day at 4:30 p.m. the lodge hosts a fireside Governor's Tea Time for guests, with an impressive offering of hot beverages and afternoon snacks from fruit and cheese to flaky crumpets. Beginning at 7 p.m., the lodge's gourmet dinner menu provides such enticing options as Cajun Diver Scallops and Tenderloin of Beef Roulade stuffed with fresh spinach. All meals are served in the historic dining hall with a giant crackling fireplace surrounded by the lodge's collection of Western art.
In the evenings guests can enjoy bellying up to the Cowboy Bar to sip from a wide selection of spirits while recounting events of the day and socializing with other winter adventurers before retiring to a lodge suite or personal cabin. All the lodge's luxurious accommodations provide terrific views, plush robes and goose down bedding for pure evening relaxation.
About Brooks Lake Lodge & Spa:
Brooks Lake Lodge & Spa, a nearly 100-year-old historic guest ranch near Jackson Hole, Grand Teton National Park and Yellowstone National Park, is located one mile from the North American Continental Divide, with views of the Pinnacle Buttes, Austin's Peak and Brooks Mountain. Surrounded by evergreen forests, wildlife and alpine Brooks Lake, the exclusive, all-inclusive Wyoming Rocky Mountain resort offers five-star service, luxury accommodations and gourmet dining. Named a 2017 Western Landmark and hidden gem by Western Art & Architecture, a U.S. Rocky Mountain Stunning Inn & Lodge by Vacation Idea, a Top 10 Luxury Wildlife Lodge by Money Inc. and a Travel + Leisure Great American Lodge, Brooks Lake Lodge's rates include lodging, meals, activities and spa access. For more information visit http://www.brookslake.com or call 866.213.4022, and follow Brooks Lake Lodge on Facebook.
Media Contact: Amy Stark, Word PR + Marketing, amy(at)wordprmarketing(dot)com, 307.734.5335