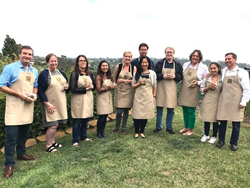 SAN DIEGO (PRWEB) October 18, 2017
Lajollacooks4u, San Diego's premiere team-building and cooking events company, is proud to announce that it has received 250 five-star reviews on the popular travel review site, Trip Advisor.
Recent reviews call the popular La Jolla-based venue the "perfect team-building experience," "one of the best ways to host a birthday celebration" and "our most treasured memory from our trip to San Diego." These sentiments have not only led the way to Lajollacooks4u winning a 2015, 2016 and 2017 Certificate of Excellence, but they've also enabled the company to achieve monumental growth in the nine years it's been in business.
Owner and founder, Chef Jodi Abel is awestruck by the following her company has received. "It's hard to believe how far we've come in the years we've been in business. Reaching this milestone on Trip Advisor not only serves as a testament to the quality of service we provide, but it also shows our commitment to excellence."
From team-building events to birthday celebrations, gourmet cooking classes to Farmer's Market foodie tours, Lajollacooks4u gives every guest the opportunity to collaborate, communicate and have fun amidst a one-of-a-kind backdrop overlooking La Jolla.
About Lajollacooks4u:
Lajollacooks4u is San Diego's premiere team-building and cooking events company. Since 2008, it has hosted companies from all over the globe, providing guests with a collaborative and one-of-a-kind culinary experience. With skilled facilitators, farm-to-table cuisine and a stunning view overlooking La Jolla, Lajollacooks4u has consistently been ranked one of the area's top attractions by Trip Advisor, having been awarded its Certificate of Excellence three years in a row. For more information about the company's hands-on team building events and gourmet cooking classes, visit http://www.lajollacooks4u.com or contact jodi(at)lajollacooks4u(dot)com.