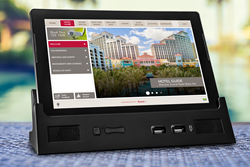 From our research it was clear that Crave was the best solution and their reputation for successfully delivering in other large resort properties gave us great confidence. - John D'Angelo, Grand Hyatt Baha Mar Resort Manager
LONDON (PRWEB UK) 18 October 2017
The Grand Hyatt Baha Mar has 1,800 contemporary bedrooms and is the flagship hotel property at the Baha Mar resort. Each Crave tablet provides centralized access to a wealth of resort information and allows guests to order a range of services from the comfort of their rooms including Room Service, Spa treatments, Cabanas, Golf and Tennis all with ease and elegant simplicity.
Located along the pristine beaches of New Providence in the Bahamas, the breathtaking Baha Mar resort has 40 world-class restaurants and lounges, the Caribbean's largest Casino, a flagship ESPA spa, an 18-hole Jack Nicklaus Signature designed golf course, seven swimming pools, 200,000 square feet of inside and outside convention space, a discovery centre, tennis and much more. The Crave tablet helps guests discover what's happening across the resort, with relevant information updated in real time.
The Hotel selected Crave's bespoke 10" tablets, which are designed specifically for use in hotels, complete with Bluetooth speaker docks. The tablets are highly secure and easy to manage and maintain, with Crave's proprietary Operating System (OS) and MDM (mobile device management) technology. Crave Cloud powers the system, allowing management to change content and monitor the system from anywhere and in real time.
Analytics measure every press and click, providing valuable data to the Hotel to help understand guests' interests and preferences in a way traditional paper systems cannot. Based on experience in other properties, Crave expects 25-30 million guest interactions at Grand Hyatt Baha Mar per annum.
John D'Angelo, Grand Hyatt Baha Mar Resort Manager, said, "We are committed to providing the highest level of service to our guests and the Crave tablets will play an integral part in achieving our service goals. From our research it was clear that Crave was the best solution and their reputation for successfully delivering in other large resort properties gave us great confidence."
Gareth Hughes, Crave Interactive Founder and CEO, said, "We are delighted to add Grand Hyatt Baha Mar to our growing list of prestigious clients, underlining our growing reputation as the leading vendor of in-room tablets and digital directories for hotels. There is no doubt that in-room tablets are highly appreciated by guests and provide a positive return on investment for hotels. Our mission is to remove all paper from hotel rooms, and to help hotels increase profits while providing better service to their guests, from the humblest motels to the finest resorts in the world."
About Crave Interactive
Formed in 2009, UK-based Crave Interactive Ltd is a leading developer of guest-facing hotel tablets and app solutions. The company is a global market leader, with products and services available worldwide. Crave's systems are powered by Crave Cloud, a sophisticated proprietary software platform that delivers excellent guest services via any device. To date over two million items have been ordered via Crave Cloud. Crave in-room tablets provide a full range of guest services in a sleek and stylish manner. Crave solutions can replace paper directories, and increase revenues of in-house services, such as spa treatments, restaurant bookings and merchandise sales.