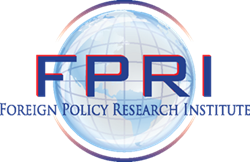 PHILADELPHIA (PRWEB) October 18, 2017
On October 21- October 22, 2017, the Foreign Policy Research Institute will hold a professional development conference, co-sponsored by the Department of Russian and East European Studies at the University of Pennsylvania and Carthage College, for high school and secondary school educators in Philadelphia, PA.
The weekend conference focuses on "What is Eurasia?" and will connect 40 educators with leading scholars in the field of international relations. Nine experts will present topics including the rise and fall of the Soviet Union, the Russian revolution, Post-Soviet democratization, the Baltic States and more. A full list of topics and speakers can be found here.
This conference comes at an opportune time to reexamine the history of Eurasia. December 2016 marked the 25th anniversary of the fall of the U.S.S.R., while November 2017 will mark the 100th anniversary of the founding of Soviet Russia. Educators will be able to closely explore Eurasia – a vast and diverse region- and its critical history and future.
Part of a 20-year series of History Institutes put on by FPRI, these conferences enable educators to apply these complex subjects to a high school level curriculum. After the conference, educators are encouraged, with the offer of a stipend, to create lesson plans meeting national standards to be shared on the FPRI website and among a network of teachers across the U.S.
This year History Institute participants include educators from:

Cholla High School – Tucson, AZ
The Buckely School – Sherman Oaks, CA
Gonzaga College High School – Washington, DC
Odyssey Charter School – Wilmington, DE
Cutler Bay Senior High School – Cutler Bay, FL
Palm Bay Magnet High School – Melbourne, FL
Deerfield High School – Deerfield, IL
Marian Catholic High School – Chicago Heights, IL
Northwood High School – Silver Spring, MD
Lake Shore High School – St. Clair Shores, MI
Centennial High School – Circle Pines, MN
Chesterton Academy – Edina, MN
Irondale High School – New Brighton, MN
Mankato West High School – Mankato, MN
Mahtomedi High School – Mahtomedi, MN
Rogers Middle School – Rogers, MN
Camden County College – Cherry Hill, NJ
Franklin High School – Somerset, NJ
George Washington Middle School – Wayne, NJ
Mount Saint Mary Academy – Watchung, NJ
Ranney School - Tinton Falls, NJ
Hunter College High School – New York, NY
Pelham Memorial High School – Pelham, NY
Poly Prep Country Day School – Brooklyn, NY
Smithtown High School West – Smithtown, NY
California University of Pennsylvania – California, PA
Central Bucks East High School – Doylestown, PA
Central High School – Philadelphia, PA
Downington East High School – Exton, PA
North Pocono High School – Convington Twp, PA
Rosemont College – Rosemont, PA
Schuylkill Valley High School – Leesport, PA
Centennial High School – Austin, TX
Clark High School – Plano, TX
Episcopal High School – Houston, TX
St.Stephen's Episcopal School – Austin, TX
Union Grove High School – Gladewater, TX
Mount Vernon High School – Alexandria, VA
Tecnologico de Monterrey, Jalisco, Mexico
Established in 1990, the Marvin Wachman Center for Civic and International Literacy of FPRI seeks to foster civic and international literacy in the community and in the classroom. The Madeleine and W.W. Keen Butcher History Institute is the centerpiece of the Wachman Center, sponsoring programs designed to bring high school teachers from around the country together with the nation's top scholars in history, political science and more. Over the past 20 years, History Institutes have garnered a national reputation for excellence and have worked with over 1,000 teachers from over 800 different schools in 47 states.
For more information about future History Institutes and other teacher resources, please visit http://www.fpri.org/education.
FPRI is a non-profit, non-partisan think tank located in Center City Philadelphia. Its mission is to bring the insights of scholarship to bear on the foreign policy and national security challenges facing the United States. It seeks to educate the public, teach teachers, train students, and offer ideas to advance U.S. national interest through the lens of history, geography, and culture.