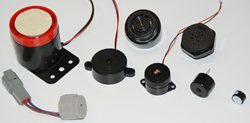 The TRIP Series indicators can be used wherever a noise alert is required, such as for start and stop conditions or an alert notifying a problem has occurred.
ELK GROVE VILLAGE, Ill. (PRWEB) October 17, 2017
The TRIP Series indicators from Transducers USA can be used wherever a noise alert is required, such as for start and stop conditions or an alert notifying a problem has occurred. This new Series includes several families of indicators: an Internal Drive Circuit family, a Panel Mount family, and a group of specialty indicators.
The TRIP family indicators with internal drive circuits emit a continuous tone (beep) for a high-pitched alarm at 2700 to 4000 Hz. Fast and slow pulsing options are also available. These beepers are designed for PC mounting (through-hole) and for screw-hole installation. These DCV units are available with wire leads or PC pins. Ideal for medical, security and safety applications, the lower frequencies included in this TRIP family are well suited for portable diabetes equipment, respirator pumps, and other non-life supporting medical devices.
The Panel Mount TRIP family indicators are used in AC/DC applications. They are larger, rugged and louder; designed to be hard wired to the panel. Three different tone options are available: continuous, fast pulsing and slow pulsing, or any combination. Typical operating voltage is 24VDC, although the products range from 6VDC to 28VDC (or up to 250 ACV). This Panel Mount family of indicators is ideally suited for industrial applications, such as reverse alerts in vehicles (i.e., forklifts), machinery problem alarms, as well as other material handling, factory floor and vehicular applications where ambient noise competes with less audible signal devices.
Transducers USA also offers several specialty audio indicators as part of their TRIP Series. The TRIP-2612F has been designed for standard use in automobiles and other vehicles, such as golf carts, and features a continuous tone. The TRIP-1500L contains a siren for applications requiring a loud alarm; options include single- or multi-tone.
The TRIP Series of audio indicators from Transducers USA includes dozens of models and part numbers, with electrical, mounting, frequency and tone options to cover the typical requirements for alarms and audible alerts. For custom requirements, Transducers USA will also provide modifications to any standard item, or design a completely custom audible signal device for your application. 3D prints can be provided in a few days.
For more information on the TRIP Series from Transducers USA, please visit: http://www.tusainc.com.
FREE samples of these input and/or output devices are available to editors upon request. Please contact Joe Sieracki at 847-956-1920.
About Transducers USA
Transducers USA produces quality audible signal devices at very competitive prices for Original Equipment Manufacturers. The company manufactures a comprehensive line of audio indicators and transducers in piezo and electro-mechanical varieties, including microphones, speakers, and ultrasonic components.
Products are manufactured in ISO-9000 and RoHS certified facilities in Asia. Transducers USA provides customer support and engineering assistance from their local headquarters in Elk Grove Village, IL. Over 1,300 production workers and 100 specialized audio engineers support Transducers USA.
In addition to hundreds of standard audible signal devices, custom products are also available at Transducers USA, based on either a customer's design or one created by Transducers USA engineers. CAD drawings and tooling will be provided at no charge for qualified orders.
Distributors and sale representatives are utilized as a channel to market. Local contacts can be found on http://www.tusainc.com.