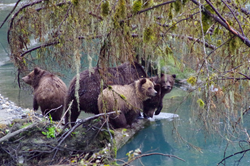 Sonora Island, BC, Canada (PRWEB) October 18, 2017
It has been a record-breaking year for bear viewing for Sonora Resort guests in partnership with the Homalco First Nation, with 33 Grizzly Bears spotted during a recent excursion to see the bears on October 15, 2017.
"British Columbia is known for its abundance of wildlife and we are seeing guests from all over the world seek our part of the province specifically to be able to watch and capture the Grizzly Bears in their natural habitat," says Sean Ross, vice president, Sonora Resort. "We must applaud the Homalco First Nation and all they are doing to protect the bears and support the eco system of the Orford River so these bears can flourish."
From late August until now, the majority of guests on the bear excursions have been at full capacity, taking Sonora's own "Grizzly Master" and "Sonora Spirit" vessels for the 40-minute trip up to the Orford River to visit the Homalco First Nation's, "Bears of Bute". Due to the popularity, Sonora Resort has extended its season a couple of weeks and will remain open now until the end of October this year.
"We have witnessed large male Grizzlies and many females with cubs in tow all running, playing and feasting on salmon, up and down the Orford River this season," says Ross. "We realize guests are now coming to the resort with high expectations they will see bears and thankfully, every trip in 2017 saw grizzlies with 33 bears at one time on October 15 being the highest number of bears viewed in one visit, on record."
Visitors to the Orford River to see the grizzlies will typically see five to ten bears although this year many trips reported seeing 10 or more bears on each visit.
"The photographs our guests and guides have been able to capture this season are extraordinary," adds Ross. "Whether guests are perched on one of the Homalco's viewing platforms or (when safe and secure) able to stand close to the river bank, being able to see the salmon flounder in the river and the bears feast on them right before our eyes is exceptional."
Both Sonora Resort and the Homalco First Nation have been continuously working on replenishing wild salmon stocks in the region by supporting and maintaining local fish hatcheries including the Gillard Fish Hatchery. The bears and other wildlife in the area such as eagles, rely solely on the salmon as their main food source.
The Homalco First Nation work together with a bear biologist on ecological research, training, and site-based conservation at the Orford River. The biologist's findings are observed and shared with the Homalco guides who have deep knowledge of the resident grizzlies and the history of the traditional Homalco land, much to the enjoyment and education of Sonora's guests.
And with its support of the Grizzly Bear Foundation, and continually working to enhance and support the Homalco's efforts, Sonora Resort remains committed to various efforts to support the population of grizzlies at Bute Inlet.
On the October 15 excursion when the count of bears got up to 33, there were Sonora staff members also along for the adventure that day.
Here is what Sonora guest services staff member Julia Hantzsch had to say about seeing the grizzlies: "This Bear tour was incredible. I haven't seen Grizzly Bears before, so going on the Grizzly Bear Tour was definitely a highlight of my season. I heard from a lot of guests before that they had seen a lot of bears, so I was expecting to see some for sure, but seeing 33 was amazing."
Hantzsch adds, "There were two highlights for me on October 15…The first one was seeing the Mama with her three cubs. We drove down to the third viewing tower, when they showed up right beside the road. We were able to get out of the bus and watch them from outside the tower. Being able to watch Wildlife that closely is one of my favorite things to do and I could have watched for hours."
Associated with this news release is a photo taken on October 15 by Sonora staff member, Julia Hantzsch. Additional photos are available upon request.
Sonora Resort's 2017 season wraps up October 29 and will re-open again May 1, 2018. In addition to the Grizzly bear records set this year at the resort, Sonora has seen an abundance of humpback whales and orca whales directly outside the front of the resort – quite a rush of excitement for guests and staff to witness. Photographs can be viewed on Instagram @SonoraResort.
Sonora Resort lies within the heart of the intimate ecological meeting place where the North Pacific waters touch the coastal rainforests of B.C. Visitors can only travel to Sonora by way of helicopter, sea plane, or boat. The resort welcomes guests from all over the world and is a proud member of Relais & Chateâux, Virtuoso Hotels & Resorts, Condé Nast Johansens, Signature Travel Network, and a TripAdvisor 2016 Travelers' Choice award winner.
For more information about Sonora Resort, please visit http://www.sonoraresort.com.
For more information about Relais & Chateâux, please visit http://www.relaischateaux.com.
About Sonora Resort
Sonora Island is located within the Discovery Islands at the mouth of Bute Inlet, one of the deepest inlets in North America. Guests reach Sonora Resort by boat or air, approximately 50 minutes by private helicopter from Vancouver. Sonora is a Relais & Chateâux property and unique in the world because of its secluded location, abundance of natural beauty and wildlife, with luxury accommodations and gourmet cuisine. Sonora welcomes guests from May to October each year. The guided grizzly bear tours at the nearby Orford River are offered in partnership with the Homalco First Nation, from August to October. Additional Sonora Resort highlights include a tennis court, conservatory, and the Island Currents Spa with five treatment rooms including a Couple's massage room, outdoor hot and cold mineral pools, fitness facility and relaxation room. Sonora Resort was recently named to the prestigious 2016 Conde Nast Traveller UK Gold List. http://www.sonoraresort.com