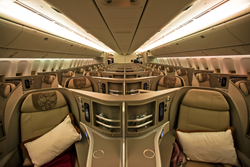 Several airlines are adding business suites to their flights rather than just updating regular seats," Graft said. "We expect these new offerings to be important players in the luxury travel sector in 2018. That's why we're adding a short segment to our annual Top 5 list.
CHICAGO (PRWEB) October 19, 2017
IFFC Explains Criteria for Top Business Cabins
"We take a number of factors into consideration when we compile this list," said Julia Graft, public relations manager for IFlyFirstClass. "Attentive service, ease of check-in, quality of onboard dining and the physical comfort of cabin seats are just a few of our criteria. Airlines have spent millions of dollars on improving their business cabins and services in recent years. With this constant flux in options, it's important to stay on top of the latest trends and options. In this way, we hope to help our customers and travelers decide which airlines best fit their needs."
IFFC Adds "New To Watch" List for 2018
This year, IFlyFirstClass also adds a section to its list to highlight some new business class options that are set to debut in 2018. Many airlines are bringing new Airbus A380s and A350s and Boeing 787 Dreamliners into their fleets. Most of these airlines redesigned their seating to fit the airplanes, offering new and interesting amenities for travelers.
"Several airlines are adding business suites to their flights rather than just updating regular seats," Graft said. "We expect these new offerings to be important players in the luxury travel sector in 2018. We want travelers to know about the new options, but as we can't experience them firsthand, we can't rate them at the current time. That's why we're adding a short segment to our annual Top 5 list."
2018 Top 5 Business Class Airlines
At the No. 5 spot is perennial business favorite Lufthansa. For years, the German airline has catered to the business traveler, offering high-end airport lounges and accommodating service. It remains a go-to airline for many business and leisure travelers who want consistent, attentive service and excellent seats. Lufthansa seats convert to flat beds, a standard that is increasingly common on other airlines. Passengers have access to Bose noise-canceling headphones to help cut down on ambient noise and distractions. Storage cubbies and hooks are plentiful, although some travelers need to share a partitioned footrest when seats are reclined.
All Nippon Airlines (ANA) business flights have a roomy 1-2-1 configuration so that every passenger has an aisle seat. The rows are staggered to provide additional privacy. As with all of the business seats in the top five, ANA's seats recline to a fully flat position. In its fully reclined state, the bed measures 74.5 inches in length. Passengers dine on a variety of artistically presented Japanese and international cuisine, and a la carte menu options are available at any time. Amenity bags include L'Occitane toiletries as well as eye masks and earplugs. With ANA's commitment to quality service, cuisine and comfort, the airline earns the No. 4 position on IFlyFirstClass' list.
Passengers on board Etihad's new Business Studio seats enjoy many new amenities. At No. 3 on IFlyFirstClass' list, Etihad has already rolled out its new business cabins on its A380s and 787s. This new Business Studio concept includes a fully reclining seat that stretches 80 inches from head to foot. The new cabin seats also have ample leg and foot room, a large tray table and a spacious storage and console area. The company's exclusive seating configuration gives the most privacy to those in window seats. For passengers traveling with a companion, center-section seats are a good choice since the seats are close together and don't have the privacy afforded window seats.
Over the past few years, many travelers compare No. 2 Singapore Airlines' business class accommodations to first class cabins on other airlines. Some Singapore business seats are the widest in the industry, so there's plenty of room for travelers to stretch out. All seats have direct aisle access so there's no need to step over sleeping passengers while moving around the cabin. Singapore is also known for its KrisWorld entertainment options and a Book the Cook menu with full table service. For many travelers booking through IFlyFirstClass, Singapore Airlines' business seats are the pinnacle of luxury.
At the top of IFlyFirstClass' list, Qatar Airways' new QSuite business seats are the harbinger of the new, more luxurious business cabin. Certain paired QSuite seats can be joined into a grouping for two or four people traveling together. The bed even can be joined to create a double bed. If travelers don't want that level of "togetherness" with other passengers, the seats can be made more private with a tall sliding partition. An integrated power and control center allows passengers to charge electronic devices, connect to the Internet and plug in USB devices. A suite door slides closed for even greater privacy. Qatar Airways' new business suite cabin ushers in a new era of luxury at this level, providing travelers with everything they need for comfortable travel.
Business Cabins to Watch
As Qatar Airways and a handful of other airlines debut business suites, travelers enjoy improved privacy, space and connectivity. British Airways, United, Malaysia and Delta All-Suite business cabins are planned for use in 2018. American Airlines is also revamping its business seat design aboard its new 787s and A350s. Several other airlines, including Qantas plan to offer overhauled business class seats in 2019.