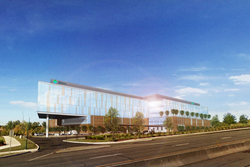 Today's announcement further underscores the magnitude of our commitment to the region and to developing a nationally leading, value-based health care system that is unsurpassed in the quality, accessibility and affordability of the services it provides.
PITTSBURGH, PA (PRWEB) October 18, 2017
Highmark Health and Allegheny Health Network (AHN) announced today plans to invest an additional $700 million in new facility construction and existing facility expansion and renovation over the next four to five years to further improve access to affordable, high-quality health care services in the Western Pennsylvania region. Coupled with $315 million in capital investments announced earlier this year to support the network's cancer and Erie market strategies, the additional projects bring the organization's total commitment to more than $1 billion in new and improved care sites and capabilities. The investments are expected to ultimately create more than 800 new health care jobs in the region.
As key components of its strategy, AHN will open a new, 160+ bed full-service hospital in Pine Township adjacent to its Wexford Health + Wellness Pavilion, while also forming a joint venture with Emerus, the nation's leading developer and operator of neighborhood hospitals, to build multiple additional facilities across the region that will provide unique local access to emergency, primary and specialty care.
The network also plans to further expand and renovate facilities at a number of its existing hospitals, including Forbes, Jefferson, West Penn and Allegheny General, and will continue to make substantial investments that advance the capabilities of its leading clinical programs in cardiovascular care, women's health, the neurosciences and orthopedics, among others.
"Today's announcement further underscores the magnitude of our commitment to the region and to developing a nationally leading, value-based health care system that is unsurpassed in the quality, accessibility and affordability of the services it provides," said David Holmberg, Highmark Health President and CEO. "Through our partnership with Emerus and the other significant capital investments planned for AHN, we are building a uniquely patient-centric health care system and taking every step necessary to ensure the network's exceptional care is more readily available to patients and our members in settings close to where they live and work."
Through 2016, Highmark Health invested more than $1.4 billion in AHN assets and operations to enhance its clinical capabilities and grow its capacity to provide leading-edge care in the market, bringing the cumulative investment to nearly $2.5 billion through 2022. In June 2017, the network announced plans to invest more than $200 million over the next two years to enhance access to oncology services, including a new academic cancer institute that will be built on the campus of AGH and multiple community-based cancer treatment centers. The organization also is in the midst of a $115 million multi-phased capital investment plan for Saint Vincent Hospital in Erie that includes construction of a new emergency department, a state-of-the-art operating room suite, and a new Women's and Infants Center, among other planned projects.
"We are listening to our patients and members and developing 21st century care models, programs and facilities that place their health care needs and preferences at the center of everything we do," Holmberg said.
Bringing state-of-the-art inpatient care to Wexford
AHN's planned hospital in Pine Township will complement the network's abundance of outpatient services in the market, including its Wexford Health + Wellness Pavilion, Pediatric Orthopaedic Institute and other facilities and physician offices.
AHN's Wexford Health + Wellness Pavilion offers a range of primary and outpatient specialty care in a holistic model that combines comprehensive clinical and retail health services. Supported by the area's growing population base, the Pavilion has exceeded expectations since opening in 2014, with patient volumes increasing every year and numerous new services being added to accommodate the community's increasing health needs.
Like the Pavilion, the new AHN Wexford hospital will serve an area with a current population of more than 215,000 people, more than 40% of whom have Highmark Blue Cross Blue Shield coverage. The new hospital will offer a wide array of clinical services, including many that community residents are currently traveling into Pittsburgh to receive.
"When the Wexford Pavilion was developed, we envisioned one day adding an equally dynamic, retail-oriented inpatient component to our capabilities in the market," said Cynthia Hundorfean, AHN President and CEO. "We are thrilled to now be moving forward with that vision by building a state-of-the-art, full-service hospital for our patients and their families that will be unsurpassed in the experience and quality of care that it affords."
Pending regulatory approvals, AHN expects to break ground on its new hospital in mid-2018 with completion in or before 2021.
Emerus Joint Venture – a first-of-its-kind model for western Pennsylvania
AHN will be among the first health systems east of the Mississippi to incorporate the Emerus neighborhood hospital concept into its care delivery model. The facilities typically range from 15,000 to 60,000 square feet and may offer an assortment of onsite clinical services, including an emergency department, 10-12 inpatient beds for observation and short-stay use, diagnostic care, primary and specialty care, and other complementary services. Unlike standalone emergency departments or urgent care centers, the facilities are fully licensed hospitals that are open 24/7 and able to accommodate some patients who require hospital-based services.
AHN and Emerus are initially planning to open four AHN neighborhood hospitals in the region over the next 18-24 months. Locations for the hospitals are expected to be finalized soon, with opening dates targeted for early 2019.
"Hospitals and health systems across the country are seeking innovative solutions to providing patients and communities with not only better access to care, but a more efficient model of care delivery," said Craig Goguen, Emerus CEO. "We are excited to partner with Highmark Health and AHN to help them accomplish that goal in the greater Pittsburgh area by bringing our unique hospital concept to life for the many people who rely on AHN for their comprehensive health care needs."
AHN and Emerus will share in the cost of constructing the new hospitals, with Emerus managing the facilities. The hospitals will be staffed by board-certified physicians, nurses and other experienced health care professionals, all of whom are aligned around a proven, high-quality, patient-centered care model. In 2016, for the fourth consecutive year, Emerus received the prestigious Press Ganey Guardian of Excellence Award, which recognizes top-performing health care organizations that have consistently achieved the top 95th percentile or above for exceptional patient experience.
Among many patient-friendly design elements, the neighborhood hospitals feature nursing stations uniquely configured to maximize sightlines and accessibility, allowing staff to easily monitor exam rooms and minimize response times. Aesthetically pleasing and technologically advanced CT and x-ray procedure rooms provide comfort for patients of any age, with adjacent observation rooms that keep families together during procedures. Onsite labs will expedite testing processes so patients don't have to wait long for results.
"Our first and foremost priority is providing patients with the absolute best care experience possible, and it is immensely gratifying to be able to partner with an organization that shares those values," said Hundorfean. "The future of healthcare is local, and Emerus has an outstanding track record for delivering excellent, high-value clinical services in well managed, beautifully maintained neighborhood facilities. We look forward to adding its model to our diverse portfolio of facilities and programs."
Hundorfean stressed that AHN's goal through its neighborhood hospital strategy is to quickly and cost-effectively address gaps in healthcare access where its patients, and Highmark members, reside while also further strengthening the network's relationship with independent hospitals in communities they jointly serve. AHN plans to establish transfer agreements with independent providers located in the vicinity of its new neighborhood hospitals for patients who may require more sophisticated surgical or critical care services.
"Every investment that we make is based on our commitment to always doing what's right for patients and what's right for the communities we serve," Hundorfean said. "We believe keeping care local whenever appropriate leads to the best possible experience and outcomes for patients, while also reducing the costs of care."
Expansion and Upgrade of Existing AHN Facilities
AHN will also move forward with an expansion and renovation of Jefferson Hospital's emergency department as part of its capital investment plans. More than 45,000 patients in the South Hills and lower Monongahela Valley seek emergency care at Jefferson each year. The new emergency department will feature spacious, comfortable waiting areas and the latest advanced technologies to help caregivers triage, diagnose and treat patients more effectively and efficiently. Work on the project is expected to start in the first quarter of 2018.
At Forbes Hospital, plans are in place to expand and enhance the hospital's existing perioperative, gastroenterology and postoperative surgical recovery units to better accommodate the hospital's growing surgical program and patient volumes. The hospital is expected to break ground later in October on its new 50,000-square-foot Perioperative Center, which will double the capacity of Forbes' post-acute care unit, increase by 50% its capacity for cardiac procedures and add both a new electrophysiology lab and an expanded, state-of-the-art GI lab. Completion of the project is anticipated in December 2018.
AHN's plan also includes continuing investments in infrastructure, renovations, technology upgrades and new clinical programs at AGH, and construction of an expanded Neonatal Intensive Care Unit and investment in a number of AHN Women specialty clinics at West Penn Hospital, including a new Center for Postpartum Depression.
About Highmark Health
Highmark Health, a Pittsburgh, PA based enterprise that employs more than 40,000 people nationwide and serves nearly 50 million Americans in all 50 states, is the second largest integrated health care delivery and financing network in the nation based on revenue. Highmark Health is the parent company of Highmark Inc., Allegheny Health Network, and HM Health Solutions. Highmark Inc. and its subsidiaries and affiliates provide health insurance to more than 5 million members in Pennsylvania, West Virginia and Delaware as well as dental insurance, vision care and related health products through a national network of diversified businesses that include United Concordia Companies, HM Insurance Group, Davis Vision and Visionworks. Allegheny Health Network is the parent company of an integrated delivery network that includes eight hospitals, more than 2,800 affiliated physicians, ambulatory surgery centers, an employed physician organization, home and community-based health services, a research institute, a group purchasing organization, and health and wellness pavilions in western Pennsylvania. HM Health Solutions focuses on meeting the information technology platform and other business needs of the Highmark Health enterprise as well as unaffiliated health insurance plans by providing proven business processes, expert knowledge and integrated cloud-based platforms. To learn more, please visit http://www.highmarkhealth.org.
About the Allegheny Health Network
Allegheny Health Network (http://www.AHN.org), a Highmark Health company, is an integrated healthcare delivery system serving the greater Western Pennsylvania region. The Network is composed of eight hospitals, including Allegheny General Hospital, its flagship academic medical center in Pittsburgh, Allegheny Valley Hospital in Natrona Heights, Canonsburg Hospital in Canonsburg, Forbes Hospital in Monroeville, Jefferson Hospital in Jefferson Hills, Saint Vincent Hospital in Erie, West Penn Hospital in Pittsburgh and Westfield Memorial Hospital in Westfield, NY. The Network provides patients with access to a complete spectrum of advanced medical services, including nationally recognized programs for primary and emergency care, cardiovascular disease, cancer care, orthopedic surgery, neurology and neurosurgery, women's health, diabetes and more. It also is home to a comprehensive research institute; Health + Wellness Pavilions; an employed physician organization, home and community based health services and a group purchasing organization. The Network employs approximately 17,000 people, has more than 2,800 physicians on its medical staff and serves as a clinical campus for Drexel University College of Medicine, Temple University School of Medicine, and the Lake Erie College of Osteopathic Medicine.
About Emerus
Emerus is the nation's first and largest operator of neighborhood hospitals. Emerus partners with leading health systems to provide excellence, empathy and innovation in health care delivery through a network of efficient, value-based neighborhood hospitals. The Emerus network brings high-quality, patent-centric acute episodic and ambulatory clinical services to communities across a given market. This helps patients by positioning best-in-class provider services in the communities where they work, live and play. Emerus' distinctive level of care earned the Guardian of Excellence Award for Superior Patient Experience in 2013, 2014 and 2015. More information is available at http://www.emerus.com (http://www.emerus.com).