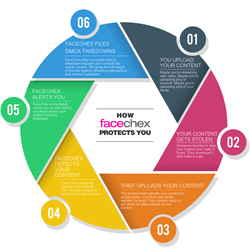 Identity theft can happen to you...My wife and I were victims of hacking, her images were stolen and put on sites from revenge sites, to dating sites, to fake profiles. FaceChex is a new product, a product that is a cause, and a product that can prevent long term damages from Identity theft.
SAN DIEGO (PRWEB) October 19, 2017
DMCAForce proudly announces the next great innovation in DMCA enforcement and identity theft protection, known as FaceChex. Unlike the DMCA systems currently out there, FaceChex is a unique online solution that provides a proven solution to the needs of today's dangerous social environment, through personal DMCA enforcement and identity protection. It doesn't matter who you are, or where you live, if you are online sharing images and videos with friends, you are susceptible to image identity theft.
FaceChex launched a Kickstarter campaign, utilizing crowdsourcing to help put a stop to identity theft and online piracy in the world. The kickstarter just went live and already has over 26 backers.
FaceChex stated that the social ecosphere has been corrupted, 3 out of every 10 profiles on social media like FaceBook, Twitter, Instagram and others, are fake. Social media users today need an automated solution that allows them to personally police their community. FaceChex provides the ability to constantly scan for miss use of your images and other personal content on the internet. We are under constant threat of being hacked, catfish'd, and duplicated via fake profiles. That and various other means of infiltrating your social community can be overwhelming. With hackings on the rise, and accounts being compromised, relying on simple privacy settings won't keep someone from taking your images and using them across other sites. People have shared their stories, provided real accounts of their images being taken and put on dating sites, hookup sites, escort sites, and extreme sites like revenge porn sites. There are videos that FaceChex provided on their website and the kickstarter that highlight the adversity of the men and women who have fallen victim to these actions. Many times it's a result of someone infiltrating their friends social media, before duping them into allowing them to infiltrate their social media.
Utilizing existing DMCA Force copyright name, audio and video search, we incorporate image recognition, to bring you FaceChex. DMCA stands for Digital Millennium Copyright Act, and it's enforcement gives content creators the power to prevent unauthorized use of their works. FaceChex currently protects identities and brands of professionals around the world. They apply image recognition, combined with artificial intelligence, and facial recognition to map, learn, and detect image identity theft in your online social community. DMCAForce technology is able to go out and search using our proprietary spiders the internet for your name or profile. We search various sites known for piracy, or new sites submitted from our users to find this stolen material. FaceChex will do the same, mainly focusing on social media sites like FaceBook, Dating sites, revenge porn sites, Hookup sites, and even escort sites. As the technology develops, additional categories are slated be added into their scanning process.
There will be a multitude of applications for this technology. FaceChex plans to expose the following social injustices and get the stolen content removed to cause them:

Identity Theft
Identity Hacking
Social Influencing
Catfishing
Child Exploitation
API's will be provided for automatic upload from Facebook, Instagram, Snapchat, Twitter and others.
DMCAForce CEO Mark Bauman said, "My wife and I were victims of hacking, her images were stolen and put on sites from revenge sites, to dating sites, to fake profiles. Kickstarter is the ideal platform to launch FaceChex. This is a new product, a product that is a cause, and a product that can limit identity theft and improve our communities. By supporting FaceChex on Kickstarter, people can be a part something bigger than themselves and impact others."
Visit FaceChex's Kickstarter page to invest, pre-order the scanning of your images, meet the creators, and learn more about the product that is answering the need for protection against piracy online.
https://www.kickstarter.com/projects/777703562/facechex-protect-your-images-and-identity-from-pir
About FaceChex
Founded in 2017 by inventor and entrepreneur Mark Bauman. FaceChex was built with the the goal of eliminating or identifying more quickly when a profile is cloned, hacked or stolen from a unsuspecting consumer. The company is focused on creating awareness for infiltration methods, social influence, protection, and are providing a product to detect more quickly and rectify the issue. DMCAForce delivers a high quality product with round the clock support which celebrities, entertainers, software developers, and other content creators stand behind.
This product is made by victims of identity theft, for victims of identity theft in an ever changing online and social environment.
With this first product release, we will provide an innovative, revolutionary product with API's and automation to stay protected online and be aware of misuse of your identity and personal content.
Check out the infographic in this post or on the site directly as well as others on how image identity hacking works and our process to protect you from it.
To support FaceChex in improving the online community, and invest in the kickstarter.
https://www.kickstarter.com/projects/777703562/facechex-protect-your-images-and-identity-from-pir
FaceChex
CEO Mark Bauman
Mark(at)Facechex.com