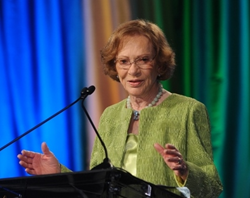 "There are four kinds of people in the world: those who have been caregivers or those that will be or are giving or needing caregivers."
Americus, GA (PRWEB) October 19, 2017
WHAT: The Rosalynn Carter Institute for Caregiving (RCI) will host a 30th Anniversary Summit to honor its long-standing commitment to family, volunteer, and professional caregivers. On the campus of Georgia Southwestern State University (GSW), this event will provide an opportunity for caregivers of individuals with chronic illnesses and/or disabilities to connect with leaders who facilitate caregiver support. A broad range of inspiring panel discussions will raise the visibility of caregiver needs, stimulate connections among key individuals, and drive conversations to address caregiver solutions.
WHO: Welcome from former First Lady Rosalynn Carter and new GSW President Dr. Neal Weaver
Keynote by Lee Woodruff, reporter, "CBS This Morning", and Co-Founder, Bob Woodruff Foundation
Panel of speakers from the Georgia Division of Aging Services, AARP, Department of Veterans Affairs,
ARCH National Respite Network, NYU School of Medicine, and many others
WHEN: Friday, October 27, 2017
8:30 a.m. – 9:15 a.m. Welcome and Keynote | 9:15 a.m. - 12:00 p.m. Panel Discussions
Complete agenda available here
Follow along on Twitter using #RCISummit2017
WHERE: Rosalynn Carter Health and Human Sciences Complex
Georgia Southwestern State University
Americus, Georgia
WHY: Discover the realities facing caregivers; learn about the ongoing national advocacy efforts in support of caregivers; hear from the original research teams that led to RCI's evidence-based programs; learn about RCI's signature caregiver programs, including Operation Family Caregiver, RCI REACH, BRI Care Consultation, and Dealing with Dementia.
CONTACT: Chelsea Collins, Director of Communications, chelsea.collins(at)gsw(dot)edu.
About the Rosalynn Carter Institute for Caregiving
Located in Americus, Ga., the Rosalynn Carter Institute for Caregiving (RCI) is a division of Georgia Southwestern State University (GSW). RCI was established in 1987 in honor of former First Lady Rosalynn Carter, a GSW alumna who serves as president of the Institute's Board of Advisors. RCI supports family and professional caregivers through advocacy, education, research, and service. In 2012, with support from Johnson & Johnson, RCI established Operation Family Caregiver, which coaches the families of newly returning service members and veterans to manage the difficulties they face when their loved one returns home.
For additional information about the Rosalynn Carter Institute for Caregiving, visit http://www.rosalynncarter.org.