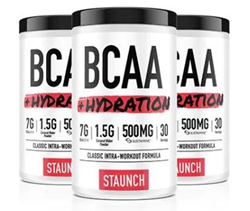 Unlock the next level of STAUCHNESS
NEW YORK (PRWEB) October 18, 2017
Join the Staunch Nation and get the muscle recovery you want after a hard workout with Staunch BCAA + Hydration with Sustamine® L-Alanyl-L-Glutamine.*
Backed by 500 mg of Sustamine®, Staunch BCAA + Hydration provides an advanced hydration complex that fights fatigue and replenishes muscles to boost recovery time. The workout powder comes in Strawberry Coconut and White Grape.*
What sets Staunch BCAA + Hydration apart is the 7,000 mg of BCAA 2:1:1 in every serving. BCAA has an anabolic effect on muscle protein synthesis, as well as the ability to decrease protein and muscle degradation.1 When combined with Sustamine®, Staunch BCAA + Hydration delivers twice the benefits.*
Sustamine® L-Alanyl-L-Glutamine is a dipeptide of glutamine – the most abundant single amino acid in the body – that provides several substantial benefits such as enhanced recovery, immune system support, and increased metabolic rate. On top of these benefits, research suggests that Sustamine® is absorbed more than 200 percent better than standard L-glutamine. This means you get better results while having to use less.*
For more information about Staunch BCAA + Hydration, visit https://staunchnation.com/collections/supplements/products/bcaa-hydration.
About Staunch
STAUNCH is a sports nutrition and lifestyle company focused on providing fun, nutritional, and science backed products at affordable prices. Staunch is owned and operated by athletes that use the products and live the lifestyle. For more information on Staunch, visit https://staunchnation.com/.
About Sustamine
Sustamine® L-Alanyl-L-Glutamine is a stable dipeptide of L-Alanine and L-Glutamine. Sustamine is more easily absorbed by the body than complex protein molecules. This makes Sustamine a highly effective ingredient for hydration, endurance and recovery.* Vegetarian, allergen-free and the only GRAS L-Alanyl-L-Glutamine, Sustamine is also tasteless, odorless, and stable in liquids.
About Kyowa Hakko USA
Kyowa Hakko USA is the North American sales office for Kyowa Hakko Bio Co. Ltd., an international health ingredients manufacturer and world leader in the development, manufacturing and marketing of pharmaceuticals, nutraceuticals and food products. Kyowa is the maker of branded ingredients including Cognizin® Citicoline, Pantesin® Pantethine, Setria® Glutathione, as well as Sustamine® L-Alanyl-L-Glutamine. For more information, visit http://www.kyowa-usa.com.
*These statements have not been evaluated by the Food and Drug Administration. This product is not intended to diagnose, treat, cure, or prevent any disease.