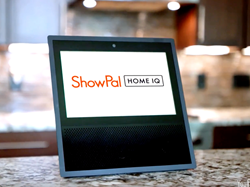 "ShowPal Home IQ is Ingenious" - Mary N. ~ Realtor
DES MOINES, Iowa (PRWEB) October 23, 2017
ShowPal, a real estate technology firm, is excited to announce the release of ShowPal Home IQ. ShowPal Home IQ is an Amazon Alexa Skill that works on an Amazon Echo Show device and delivers immediate, on-demand answers to a homebuyers questions about a property while the buyer is touring a home. ShowPal Home IQ can also immediately deliver important documents regarding the property to an interested buyer or the buyer's Realtor.
"Knowledge gaps about a property are common and this understandably leads to questions from a homebuyer. Currently, these questions are routed through various individual stakeholders in a very inefficient way," says Chad Torstenson, ShowPal's Founder and CEO. For example, let's say a buyer wants to know about the utility costs, school information, details of a home warranty or wants to see the homeowner association bylaws before they consider an offer. While this information and any supporting documents may be available they are commonly offline during a home showing. It often takes hours or days to get important information back to a buyer for review as they consider a transaction. By the time the information arrives back to the buyer they are often back at home, their workplace or otherwise engaged in their busy lives and the emotion of standing in the home of interest is often lost. The inefficiency in the cycle of information also has significant opportunity costs for real estate agents as they spend a significant amount of time attempting to get vital information to prospective buyers.
"Technology coupled with the simplicity of voice interaction has the ability to deliver important information on-demand via cloud retrieval. ShowPal Home IQ is the ultimate marketing solution for a listing as the solution can deliver any answer or document on-demand to a homebuyer while they are experiencing the positive emotion of touring the home. ShowPal's approach is simple, we want buyers to leave a showing with offers, not questions." says Torstenson.
ShowPal Home IQ was developed to support listing agents, home builders and home sellers in their quest to provide actionable information about their property in a way that is simple for them to curate and incredibly convenient for a homebuyer to obtain.
ShowPal Home IQ is the second product to be launched by ShowPal. ShowPal ID was launched 2 months ago and allows a real estate agent to perform an on-the-go digital ID verification of new clients prior to meeting them. ShowPal ID was developed to enhance Realtor safety.
ShowPal ID offers individual Realtor accounts or organizational accounts for brokerages and MLS organizations. For ShowPal Home IQ, ShowPal offers individual Realtor accounts or organizational accounts for brokerages, Multiple Listing Services or home builders looking to add Home IQ as part of their brand or as a perk to their members.
Please visit http://www.showpal.com to learn more about ShowPal and their solutions. ShowPal will be at the National Association of Realtors Annual Expo November 3-6th in Chicago. Come see us in Island 1443 to get a learn more and get a live demonstration.
Follow us on social media to receive updates and incentives.
http://www.twitter.com/showpalHQ