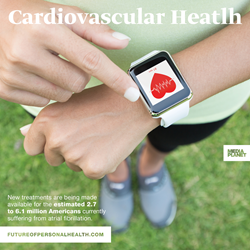 "AFib symptoms can vary for each person and some don't experience any at all, which can make diagnosis challenging. The recent advancements in technology allow us to have access to data that we have not had before."
NEW YORK (PRWEB) October 18, 2017
Celebrating Atrial Fibrillation Awareness Month, Mediaplanet announces the launch of this September's edition of "Cardiovascular Health." This campaign will advocate for continued research and development for treatment options for AFib, as well as educate readers on how to take matters into their own hands when it comes to heart health.
Heart Disease is the leading cause of death in the U.S. for both men and women, making up about 25 percent of the nation's annual death toll. However, many cases of heart disease and atrial fibrillation can be prevented. Through proper diet, exercise and regular check-ups, a heart-healthy lifestyle can be attained. The Cardiovascular Health campaign highlights the basics of heart health and looks into the future of preventative care and treatment.
The print component of "Cardiovascular Health" is distributed within today's edition of USA Today in New York, Los Angeles, Chicago, Cleveland, Pittsburgh and Philadelphia markets, with a circulation of approximately 250,000 copies and an estimated readership of 750,000. The digital component is distributed nationally, through a vast social media strategy and across a network of top news sites and partner outlets. To explore the digital version of the campaign, click here.
The Heart Rhythm Society discusses how the tech world is lending a helping hand when it comes to monitoring heart symptoms. "According to Pew Research Center, roughly three-quarters of
Americans (77 percent) now own a smartphone. In 2016 alone, 22 million wearable units were shipped worldwide, which include brands such as Fitbit and Apple Watch," says Andrea Russo, Chair of the Heart Rhythm Society Program Committee. "Not only is the use of wearable devices and mobile technology on the rise, but the innovation is also advancing at a rapid pace, opening up opportunities for people to play a more active role in their health care." Technology has also given healthcare professionals a leg up on diagnosis, Russo explains. "AFib symptoms can vary for each person and some don't experience any at all, which can make diagnosis challenging. The recent advancements in technology allow us to have access to data that we have not had before."
This campaign was made possible with the support of the American Heart Association, Vitamin Shoppe, National Stroke Association, Infobionic, Heart Rhythm Society, CeloNova, the Center for the Advacement of Cardiovascular Research and Mayne Pharmaceuticals.
About Mediaplanet 
Mediaplanet specializes in the creation of content marketing campaigns covering a variety of industries. We tell meaningful stories that educate our audience and position our clients as solution providers. Our unique ability to pair the right leaders with the right readers, through the right platforms, has made Mediaplanet a global content marketing powerhouse. Our award-winning stories have won the hearts of countless readers while serving as a valuable platform for brands and their missions. Just call us storytellers with a purpose. Please visit http://www.mediaplanet.com for more on who we are and what we do.
Press Contact:
Joelle Hernandez and Mac Harris
joelle.hernandez(at)mediaplent.com
mac.harris@mediaplanet.com
(646) 755-7965